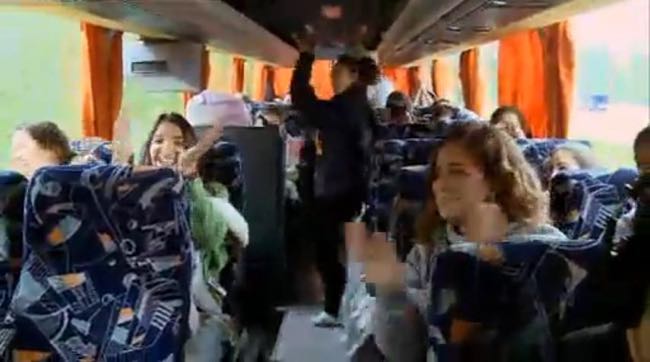 By Ray Bennett
BERLIN – Israeli filmmaker Yoav Shamir tackles the thorny and provocative issue of anti-Semitism in his documentary "Defamation" and finds a deep divide between Jews who see it everywhere and Jews who find it nowhere, least of all in America.
The film is presented as the journey of a young man who has grown up in Israel without experiencing anti-Semitism on a quest to discover what it is and how it affects people.
Taking an understated but determined approach, he variously interviews his grandmother, blacks and Orthodox Jews who are neighbors in New York, rabbis, professors, Israeli school kids on a trip to a German concentration camp imposed on occupied Poland, and members of the Anti-Defamation League.
Everyday folk display the usual type of ignorance about people they hardly know and the scholars argue fiercely from opposing perspectives and deliver scathing diatribes about right-wing politics in Israel, while the rabbis appear the most sanguine about prejudice in modern life.
The fiercest opponents turn out to be in the United States, where Prof. Norman Finkelstein, who has written about what he calls "the Holocaust industry," and Abraham Foxman, who is the very active National Director of the ADL, are vocal enemies.
Each was touched personally by the Holocaust but they hold opposing views on the nature of anti-Semitism and its impact on the world in general and Israel in particular. Their divide is profound and passionate, and Shamir takes time to allow both of them to make their case.
The most affecting scenes, however, involve the class of Israeli teenagers on a visit Auschwitz. They speak beforehand of how they are taught that anti-Semitism flourishes everywhere in the world and that by traveling beyond their nation's borders they are constantly at risk.
Shamir uses his camera as an unblinking but compassionate observer as the youngsters make the emotional journey from giggling innocence and guarded fear into the camp's horror where the crushing images leave them distraught and weeping, and then angry.
Their plight causes the director to offer the thought that perhaps it's time to stop dwelling on the past, as horrific as it has been. Maybe, he says, it's time to live in the present and look to the future.
Venue: Berlin International Film Festival, Forum; Director, screenwriter: Yoav Shamir; Director of photography: Yoav Shamir; Music: Mischa Krausz; Editor: Morten Hojbjerg; Producers: Karoline Leth, Sandra Itkoff, Philippa Kowarski, Knut Ogris Production: SF Film Production, Knut Ogris Films, Cinephil, Reveal Prods; Sales: Cinephil; Not rated; running time 91 minutes.
This review appeared in The Hollywood Reporter.