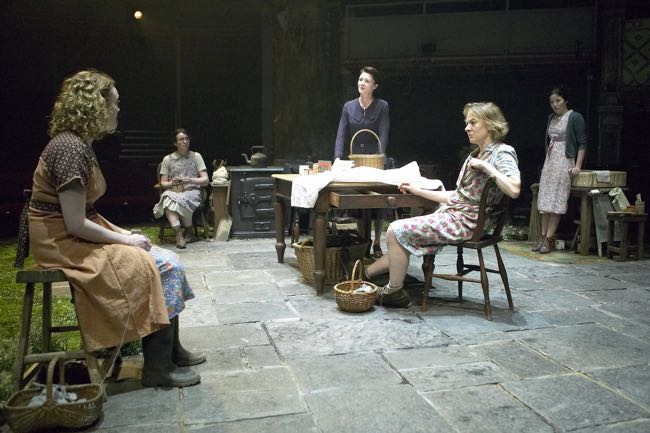 By Ray Bennett
LONDON – Kevin Spacey's Old Vic is back on form with a sumptuous revival of what has become an Irish classic.
Presented in the round beneath the branches of a vast dying tree, Brian Friel's "Dancing at Lughnasa" reminisces about five women in Ireland in 1936 with the richness of their dreams and passions being swamped by poverty, religion and tradition.
Friel's play demonstrates the power of evocative words and phrases to turn mundane stories into something hypnotic and memorable, and he is helped enormously by a splendid cast.
Director Anna Mackmin ensures that the action is staged so that no one in the audience misses anything, and Peter McDonald, as the narrator Michael, addresses everyone expertly.
The tale he relates involves five sisters whose lives are governed by the strict eldest one, played with stern assurance by Michelle Fairley, who sees that the younger ones keep their demeanor proper and their demons under control. Andrea Corr, from the Irish singing group the Corrs, makes her dramatic debut as the youngest sister, Chris, who has the love child Michael fathered by a charming wandering dreamer played stylishly by Jo Stone-Fewings. Corr's slight build adds to her character's vulnerability, and she captures her wistful hopefulness with delicacy.
The other sisters, played with conviction by Niamh Cusack, Simone Kirby and Susan Lynch, are made similarly individual, especially in the famous dance sequence that becomes a joyous expression of heightened excitement in the face of gloom.
Finbar Lynch plays the older brother who left for Africa as a missionary priest but has returned with an addled preference for native mysticism and things pagan.
Briel's writing is marked by wonderful passages that evoke the binds that tie the sisters together and the temptations that threaten to separate them forever. Using the narrator to tell what happens to them in the future adds a wonderful pathos to their simple aspirations.
Although firmly set in a specific period in Ireland, with all of that country's attendant conflicts, the play addresses the fate of women anywhere at any time. In the hands of such an accomplished cast, it's a powerfully moving and universal story.
Venue: The Old Vic, London, runs through May 9; Cast: Andrea Corr, Niamh Cusack, Michelle Fairley, Simone Kirby, Finbar Lynch, Susan Lynch, Peter McDonald, Jo Stone-Fewings; Playwright: Brian Friel; Director: Anna Mackmin; Designer: Lez Brotherston; Lighting designer: Paule Constable; Choreographer: Scatlett Mackmin; Sound designer: Gareth Fry.
This review appeared in The Hollywood Reporter.