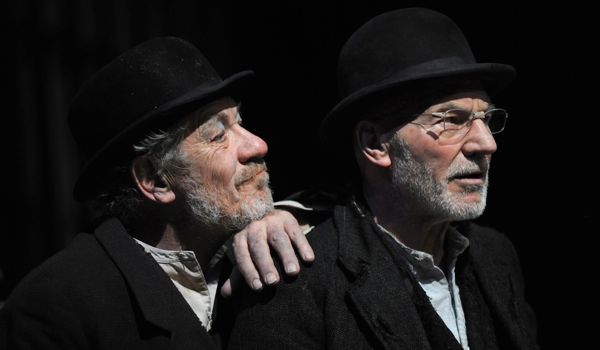 By Ray Bennett
LONDON – So much portentous meaning has been read into Samuel Beckett's play "Waiting for Godot" that it's pleasure to be reminded by Ian McKellen and Patrick Stewart what an entertaining show it is.
The two "X-Men" adversaries are sublime stage actors and they are simply wonderful in Sean Mathias' new production of "Godot" at London's Theatre Royal Haymarket, where their Hollywood star power has helped bring in a record box office advance of £2.4 million.
McKellen is Estragon, or Gogo, and Stewart is Vladimir, or Didi, in the tale of two aged ragamuffins who fill their idle days with conversation that ranges from oblique philosophy to music hall banter.
The play's puzzles and profundity do not require the pigeonholes of religion, homosexuality or existential despair to which it has been consigned since it was first performed in English in 1955. Beckett wrote it in French, doing his own translation for the play that debuted in New York in 1956.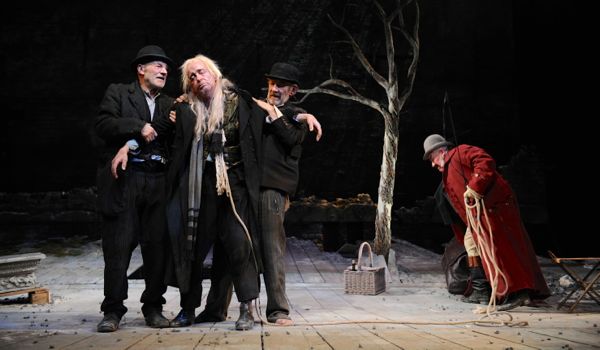 The two principles spend their time in a wasteland of rubble beside a crumbling brick wall and a dying willow tree waiting for the arrival of a savior who never comes named Godot, which they pronounce "God-o" with the emphasis on the first syllable.
Beckett said he did not mean Godot to represent God but it smacks of his typical sense of mischief that he would use that name. He states clearly the characters' central dilemma: "What are we doing here? That is the question."
The pessimistic Gogo concludes there is "Nothing to be done" while the slightly more sanguine Didi believes that answers will come along if they just "wait for Godot."
McKellen plays Gogo as a doleful English northerner who laments that "We all are born mad, some remain so," while Stewart gives the ailing Didi a jaunty optimism: "Habit is a great deadener."
Together they make a terrific double act in the manner of Laurel & Hardy, as Beckett intended. Simon Callow is a colorful Pozzo, the pitiless entrepreneur who keeps his slave Lucky (Ronald Pickup) at the end of a rope.
The cast makes the most of the play's wide-ranging musings on the fate of mankind and while Beckett offers plenty of fuel for the imagination, it's also true that thanks to the splendid performers the audience leaves with a smile.
Venue: Theatre Royal Haymarket, London, runs through July 28; Cast: Ian McKellen, Patrick Stewart, Simon Callow, Ronald Pickup, Tom Barker; Playwright: Samuel Beckett; Director: Sean Mathias; Set designer: Stephen Brimson Lewis; Lighting designer: Paul Pyant; Sound designer: Paul Groothius
This review appeared in The Hollywood Reporter. Photo by Sasha Gusov