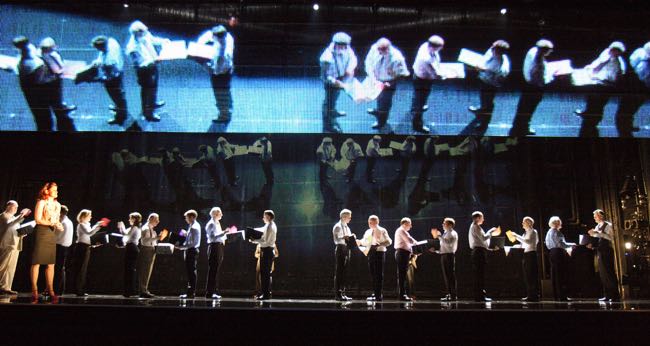 By Ray Bennett
LONDON – Not so much a play as a staged documentary, David Hare's insightful "The Power of Yes" at the National Theatre is the result of the playwright acting as a journalist in search of the reasons for the world's financial crisis.
Presented on a bare stage with a vivid city skyline backdrop, it features Anthony Calf as Hare interviewing a wide range of men and women from economists to bankers to top executives to reporters as he tries to make sense of the economic meltdown.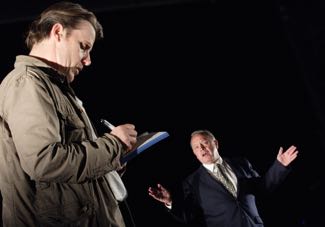 Calf, as the author (left), appears alone at the start to state his premise. "This isn't a play. It's a story," he says. "It doesn't pretend to be a play. It pretends only to be a story."
That is the case and it could be said that Hare might have been expected to transform his research into a genuine drama. He has, however, made what is really a parade of talking heads into something that is arresting with help from director Angus Jackson's dynamic choreography and intriguing video displays that include snappy quotes, algebraic equations and headlines. Stephen Warbeck's music helps considerably.
The stage is often filled with well-dressed people representing the institutions and businesses that stood to profit and lose from the greed and gambling that led to the international crash of capitalism in September 2008.
Banks and bankers mostly take it in the neck for placing their profit margins above the needs and responsibilities of society. A private equity pioneer quotes the head of Citibank comparing the action of banks to musical chairs, saying, "As long as the music is playing, you've got to get up and dance."
Calf is persuasive as a writer who is sometimes baffled and other times angry at the frequently self-righteous and disdainful views of the rich folk he talks to. There are many fine contributions among the cast including Clair Price as a surprisingly candid financial journalist and Bruce Myers as billionaire George Soros.
Hare finds no real answers but he suggests that what the financial crisis represented was the failure of the notion that markets are by definition wise and will sort themselves out. Soros quotes former chairman of the U.S. Federal Reserve Board as insisting that the benefits of the market are so great that we have to live with the price. To which Soros replied: "Yes, but the people who end up paying the price are never the people who get the benefits."
Venue: National Theatre, runs through Jan. 10: Cast: Anthony Calf, Jemima Rooper, Malcolm Sinclair, Claire Price, Bruce Myers; Playwright: David Hare; Director: Angus Jackson; Designer: Bob Crowley; Lighting designer: Paule Constable; Music: Stephen Warbeck; Sound designer: John Leonard; Video & projection designers: Jon Driscoll, Gemma Carrington.
This review appeared in The Hollywood Reporter. Photos by Catherine Ashmore.