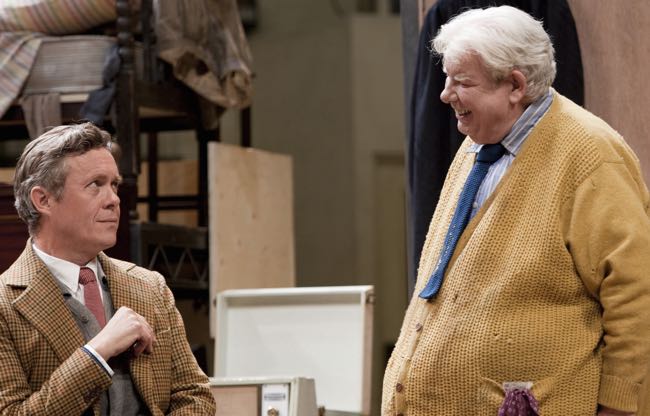 By Ray Bennett
LONDON — Alan Bennett has a lot on his mind in his latest play, "The Habit of Art," including creativity, aging, fame, anonymity and sex, and it hangs together because of his gift for language and fine stagecraft, and some splendid performances.
Like Bennett's earlier plays "The Madness of King George III" and "The History Boys," it surely will go on from the National Theatre, where it is having its world premiere, to the West End and Broadway.
Director Nicholas Hytner must take credit too for making the play's complex structure accessible and drawing first-class performances from a cast topped by Alex Jennings and Bennett regulars Richard Griffiths (pictured right with Jennings) and Frances de la Tour.
The setting is one day in the rehearsal at the National Theatre of a play titled "Caliban's Day," based on a poem called "The Sea and the Mirror" by W. H Auden. The author, Neil (Elliot Levey) is on hand as stage manager Kay (de la Tour) oversees a run-through.
Griffiths is Fitz, somewhat reluctantly playing Auden, with Jennings as Henry, who is cast as British composer Benjamin Britten. The play within the play deals with the friendship between the two men, both noted homosexuals, and a fictitious reunion late in life.
Britten is grappling with an opera based on Thomas Mann's "Death in Venice" and having trouble with the libretto. He doesn't come out and ask Auden to write it, but the poet jumps at the chance. The encounter, though, is a kind of audition as the two men's conversation roams over their respective approaches to art and their private natures. There is also an important interruption by a young rent boy named Stuart (Stephen Wight), who shows up for a sex appointment with Auden.
Also in the play within the play is another real-life character, Humphrey Carpenter, who wrote biographies of the two accomplished figures and is used as a kind of voice-over. Bennett has great fun in the back-and-forth between Donald, the actor cast as Carpenter, played by Adrian Scarborough, and the playwright about the purpose of such a device. He also draws many laughs from interplay among the author, the stage manager and the actors.
Auden was famously slovenly and personally careless with a scathing manner, while Britten was stiff, prissy and hesitant. Griffiths and Jennings are expert in changing from the actors playing them to the characters themselves. The spry and witty dialogue ranges over many things including a contemplation of who is the innocent party in "Death in Venice" — about an elderly man obsessed with a beautiful boy — and why people like the young rent boy are overlooked in history and become what Bennett calls "the fodder of art."
With beautiful language and magnetic performances, it's a complex but fascinating production that will keep audiences long engaged.
Venue: National Theatre, runs through March 6; Cast: Richard Griffiths, Alex Jennings, Adrian Scarborough, Stephen Wight, Elliot Levey, Frances de la Tour; Playwright: Alan Bennett; Director: Nicholas Hytner; Set designer: Bob Crowley; Lighting designer: Mark Henders; Music: Matthew Scott; Sound designer: Paul Groothuis.
This review appeared in The Hollywood Reporter.