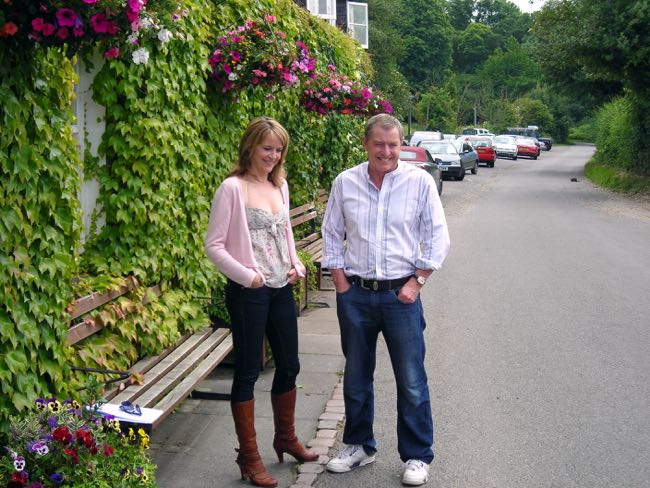 By Ray Bennett
LONDON – John Nettles, who has decided to leave his long-running hit show "Midsomer Murders", is considerably more colourful than his screen role although that has made little difference to fans of the show in more than 230 territories around the world.
He says he will miss the adoration of Barnaby's fans although he insists: "How on earth Barnaby can be regarded as sexy, I haven't the faintest notion. One paper recently described me as 'half man, half walnut and full sex god'. I quite liked that."
Barnaby has investigated killings in the fictional English county of Midsomer in more than 70 episodes — available on DVD from Acorn Media — but  his time as the calm, methodical copper, who was first seen in a pilot on ITV on March 23 1997, will come to an end this season.
Nettles made the announcement over pints of beer and plates of steak and kidney pie at a pub that resembles so many that have featured in the programme from Hertfordshire, Buckinghamshire and Oxfordshire.
Members of the media gathered for a pleasant repast and a chat with the genial bloke known around the world as DCI Tom Barnaby, who says,  "The viewers don't see the real person, they see a romanticised image."
This particular Hertfordshire village has the impossibly perfect name of Hogpits Bottom and the leafy pub, The Bricklayer's Arms, is as quaint as can be. The actor is pictured in my photos with Laura Howard, who plays DCI Barnaby's daughter Cully.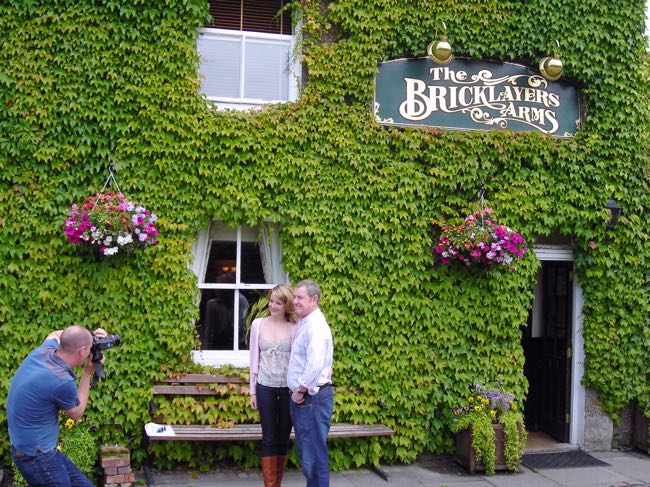 He says his decision to quit the role was tough: "I never thought when we were making the pilot in 1996 that the series would last so long, and more people have been killed than you can shake a stick at. Now that David Jason has thrown off the mantle of Frost, I've realised I'm the oldest detective in the business. But leaving has been something I've been considering ever since Series 10, to be honest. The clock keeps ticking and there are other things I want to do."
The actor says he had hoped the series would kill off Barnaby "in noble fashion in the service of his country and be buried in Westminster Abbey". But he confesses, "This was frowned upon by everybody with any critical faculties at all. It's best to just fade away like old coppers do, and old actors too."
The series' long-time producer Brian True-May says that with eight new episodes in the 13th season, Nettles as Barnaby will not disappear overnight: "John's attitude is that it's very much business as usual and he will be on our film set until 2010, and on television sets until 2011."
The show will continue without him, True-May says: "Although the departure of John Nettles will inevitably mean the end of an era, we're looking forward to a long and successful future for the series. The brand is so strong that I am confident of its continuing success with a new actor."
Nettles agrees: "I see it carrying on very well. There's a whole bunch of actors who could take over the helm from Barnaby. Equity is full of excellent character actors and I can think of 12 who could take on the part very well. I shall be jealous and critical but it'll be a different character. Unlike 'Frost' or 'Morse', it's not called Barnaby, it's called 'Midsomer Murders'."
Besides its worldwide popularity on TV, the show has had enormous success on video. Acorn Media Marketing Director Peter Smart says, "'Midsomer Murders' continues to go from strength to strength on DVD in all of the release formats: single films, six disc series sets and the popular 'Midsomer Murders' 10 boxes."
"Midsomer Murders 12" will be released throughout 2010 and then the final season with Nettles, Series 13, in 2011. There are no imminent plans, however, to release the show on Blu-ray Disc.
Nettles aims to keep busy with appearances on the stage and while he has no intention of returning to his earlier TV character Jim Bergerac, who investigated murders on Jersey, he does plan to continue his interest in the island with TV documentaries.
He says he will miss "Midsomer" most of all for the company and the crew: "I'll miss even more the actors who come as guests for four or five weeks. Some of the best actors in the country have been in this show and I'm also delighted to call them my friends. That's what I'll miss more than I can say."
This story appeared in Cue Entertainment.