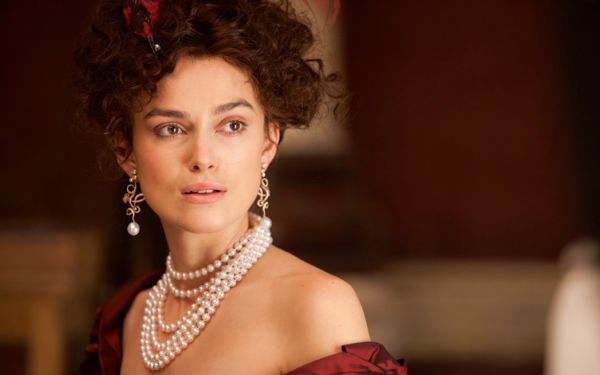 By Ray Bennett
TORONTO – With a smart and entertaining script by Tom Stoppard and vital contributions from his creative team, Joe Wright has rendered a sumptuous film version of "Anna Karenina" starring Keira Knightley (pictured) that will cause a rush on sales of Leo Tolstoy 1870's novel.
The film is so gorgeous and the music so perfect that the Motion Picture Academy might as well give composer Dario Marianelli (Wright's "Atonement") his second Oscar now, and cinematographer Seamus McGarvey, production designer Sarah Greenwood, and costume designer Jacqueline Durran (all nominated for "Atonement") will be right there with him.
The tragic love story lends itself to a tale of "Dr. Zhivago" epic proportions but Wright and Stoppard have elected to spin their yarn from the fabric of the theatre. It's that rare time when budgetary considerations result in artistic triumph as Stoppard stays faithful to the original story in inventive ways.
The early scenes take place within the confines of a theatre including the stage and backstage areas. Soon, like a fireside story that transports a reader, it surges out into wondrous landscapes, impossibly attractive buildings, and lavish halls and ballrooms.
Rooted in theatricality, the film's use of model trains and sets fuels the imagination so that when a scene cuts suddenly to a close-up of Knightley as Anna on a train, her beauty and the sigh-inducing elegance of her clothes take your breath away.
It's the third Joe Wright film to star Knightley and the collaboration obviously is very good for them. The actress has never looked more radiantly beautiful than she does in "Anna Karenina" but now she is more womanly where before she always seemed like a girl.
It appears quite proper that she should succeed former screen sirens Greta Garbo and Vivien Leigh in the title role of a wife and mother who succumbs to the temptation of a young man whom she finds wildly romantic.
Aaron Taylor-Johnson ("Kick-Ass") plays the handsome soldier Count Vronsky, who encounters Anna at a snowy train station and is smitten instantly, and Jude Law plays Anna's sedate older husband. Taylor-Johnson is barely into his 20s and in this, Wright has opted to follow the 1947 Leigh film in which Vronsky was played by a very young Kieron Moore.
Garbo had Fredric March, who was in his late 30s, as was Sean Bean in the 1997 version that starred Sophie Marceau in the title role. But with Knightley not yet 30 and the 40-year-old Law playing much older, it seems reasonable that Anna would be attracted to a dashing soldier even if he is callow, as Tolstoy wrote.
Matthew Macfadyen steals every scene he's in as Anna's cheerfully unrepentant hedonist brother and Kelly Macdonald portrays his wife's sadness and forgiveness effectively. Domhnall Gleeson and Alicia Vikander grow increasingly appealing as an earnest young landowner and the young beauty he wishes to wed.
Wright contrasts cleverly Knightley's remarkable stillness in many shots with her sudden energy as her passion takes hold. It's an impressive performance as Anna's willfulness does not always inspire sympathy.
Movement is an integral part of the story-telling whether it's people and things or the camera that's on the move. There's a horse race, horses and carriage in the snow and a train accident, and they are all done with flare. The credits mention Belgian choreographer Sidi Larbi Cherkaoui and that is worth a note because the ballroom dances of the period are made to look not just lavish and fluid but also great fun and devilishly sexy.
Marianelli's music matches the film's mix of spectacle and intimacy with lush orchestrations and delicate solos from the likes of celloist Caroline Dale. If the film gains the box office traction it deserves, then "Anna Karenina" will be well in the running when the awards come along.
Opens: Sept. 7 UK (Universal) Nov. 15 US (Focus Features)
Cast: Keira Knightley, Jude Law, Aaron Taylor-Johnson, Kelly Macdonald, Matthew Macfadyen, Domhnall Gleeson, Ruth Wilson, Alicia Vikander, Olivia Williams, Emily Watson; Director: Joe Wright; Screenwriter: Tom Stoppard, based on the novel by Leo Tolstoy; Producers: Tim Bevan, Eric Fellner, Paul Webster; Executive producer: Liza Chasin; Director of photography: Seamus McGarvey; Production designer: Sarah Greenwood; Music: Dario Marianelli; Costume designer: Jacqueline Durran; Editor: Melanie Ann Oliver; Production: Working Title. 130 minutes. Rating: UK: 12A / US: R.