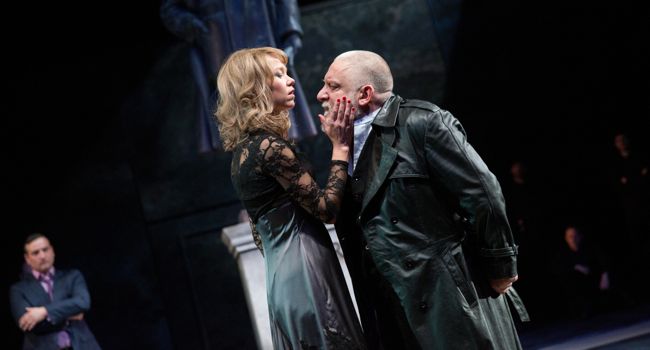 By Ray Bennett
LONDON – The National Theatre announced that NT Live will show the landmark Sam Mendes production of "King Lear" starring Simon Russell Beale on cinema screens across the UK and around the world on May 1.
It is a most wonderful production as Mendes, who was a wunderkind theatre director before he turned to film, shows he has lost none of this gift for staging the great plays.
He won an Oscar for his first picture, "American Beauty" and last year hit box office gold with the James Bond picture "Skyfall" although he returned to the stage in 2011 for Kevin Spacey's splendid appearance as "Richard III".
Beale is a marvellous actor and his Lear, a modern bullheaded leader, is a career pinnacle with shattering range and power. He is matched by Anna Maxwell Martin (pictured with Beale, "The Bletchley Circle") as a ferocious Regan, Kate Fleetwood (Mary Cattermole in "Harry Potter and the Deathly Hallows: Part 1 & 2") as a devious Goneril, Adrian Scarborough as the Fool and Olivia Vinall ("Doctor Who") as Cordelia.
The sold-out production, which runs on the Olivier Stage until May 28, received mostly rave reviews. Critic Michael Coveney in whatsonstage.com said it is "the most completely satisfying version of the play in a long while".
Paul Taylor in the Independent said it is "a powerfully searching account of the tragedy that fuses the familial and the cosmic, the epic and the intimate, and ponders every detail of the play with a fresh, imaginative rigour".
Michael Billington in the Guardian called it "quite exceptional" and said, "It combines a cosmic scale with an intimate sense of detail and is neither imprisoned by an intellectual concept nor by an actor's temperament. Instead, you feel the director, Sam Mendes, and the Lear, Simon Russell Beale, are working with everyone else to explore every nook and cranny of the play."
The NT said the 3 hour and 25 minute production will be shown on more than 500 screens in the UK and more worldwide.