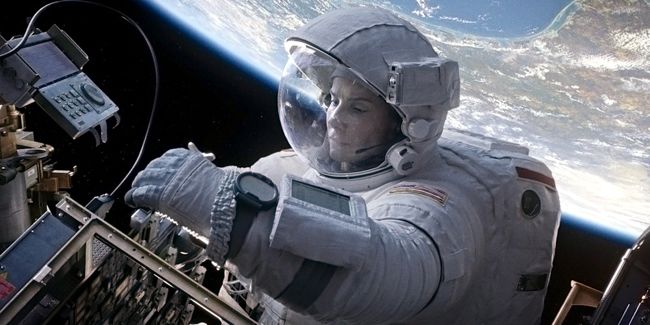 By Ray Bennett
The Oscars and the Bafta Film Awards generate huge publicity but it's very hard to say how much they benefit specific titles.
HMV's Andy Anderson observes drolly that the best case scenario for a film in awards contention would be to "receive Oscar on Sunday, release DVD on Monday".
That could happen this year to Warner Home Video's sci-fi hit "Gravity" (pictured), which is due in 3D, Blu-ray, and UltraViolet on March 3, one day after the Academy Awards are presented.
It earned 10 Oscar nominations including Best Picture, Best Actress for Sandra Bullock and best director for Alfonso Cuaron. It's also nominated in those categories and others in the Bafta Film Awards, which will be handed out on Feb. 16.
HMV's Visual, New Release and Chart Manager, Anderson says that only the top categories of best picture, actor, actress and director really resonate with shoppers. Warner Home Video also is in good shape to benefit from the Feb. 17 release on Blu-ray and DVD of Woody Allen's "Blue Jasmine" for which Cate Blanchett is the favourite to win as Best Actress in both awards.
Disney will release "Saving Mr. Banks", nominated as Best British Film at the Baftas with Emma Thompson up for Best Actress, on March 24. Of the other films with nods for Best British Film, two debuted on Blu-ray and DVD on Jan. 27: StudioCanal's "Rush" and Artificial Eye's "The Selfish Giant".
Of the nine films nominated for the Best Picture Oscar this year, two others have confirmed Blu-ray and DVD release dates in the UK. Sony Pictures Home Entertainment will release "Captain Phillips" on Blu-ray, DVD and UV on Feb. 10, a week ahead of the Bafta Awards where it has nominations as Best Film and Best Director for Paul Greengrass.
Twentieth Century Fox Home Entertainment will release "Philomena" for download on March 10 and on Blu-ray and DVD two weeks later. It is nominated as Best Picture at the Oscars and Best Film at the Baftas with Judi Dench up for Best Actress in both.
Entertainment Retailers Association Research Consultant Luke Butler says it is very difficult to measure empirically the impact of an Oscar nomination or win.
Last year, only StudioCanal's Best Picture nominee "Beasts of the Southern Wild" was released before the Oscars were presented.
It debuted on Feb. 11, two weeks before the ceremony. From Official Charts Company data, Butler reports that it had sales of 2,600 units in the week of the awards, up 11.9% from the previous week.
Anderson says a win can boost foreign- language films and documentaries. Artificial Eye's "The Great Beauty", already on Blu-ray and DVD, has both Oscar and Bafta nominations as foreign-language film while Dogwoof's "The Act of Killing", out
on Blu-ray and DVD, is nominated as best documentary in both awards and also is up for foreign-language film in the Baftas.
Artificial Eye's "Blue is the Warmest Colour", due on Blu-ray and DVD on March 17, is in the Bafta foreign-language contest but France did not submit it for the Oscars.
This story appeared in Cue Entertainment.