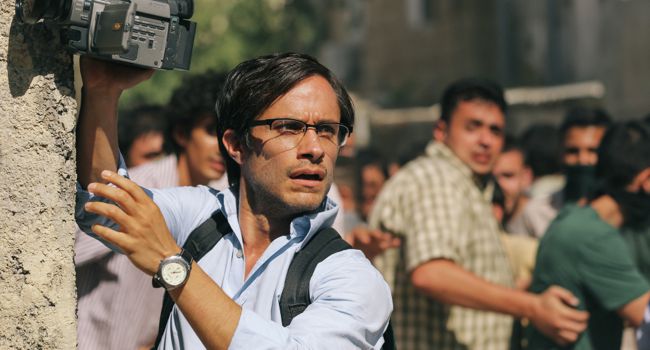 By Ray Bennett
TORONTO – U.S. comedian Jon Stewart took leave from "The Daily Show" to write and direct "Rosewater" and he has turned out an intelligent and gripping story about a newsman who is incarcerated in Iran as a spy.
The man in question, British-based Iranian-Canadian Newsweek correspondent Maziar Bahari, played by Gael Garci Bernal (pictured), falls afoul of authorities in Tehran when he covers Iran's controversial presidential election in 2009.
Admitted to secret places run by the opposition thanks to a spirited young man (Dimitri Leonidas) who runs him about the city on his motorcycle, Bahari also appears on "The Daily Show" where in typically absurd fashion faux reporter Jason Jones refers to him as a spy.
The Iranian authorities do not get the joke. In no time, he is rousted from his mother's home and placed in solitary confinement where for the next 118 days he is blindfolded and interrogated by a stern and threatening man (Kim Bodnia) who smells of rosewater, hence the title.
Stewart tells the tale straightforwardly as Bahari leaves his pregnant wife (Claire Hoy) in London for a few days to cover the election. His concerned mother (Shohreh Aghdasloo) watches anxiously as her son, an experienced reporter, takes his video camera to meetings and marches, and covers incidents in which security officers display their willingness to open fire.
Bernal is persuasive throughout and Leonidas adds lively colour to his daredevil driver. Things slow down inevitably when the reporter is incarcerated and the dance begins between prisoner and interrogator. The threat in these scenes is tangible, though, as Bahari becomes desperate enough to agree to confessions. Bodnia adds layers to his interrogator, who is overseen closely by a superior, and finally Bahari begins to sense a weakness. He begins to make up tales of what it's like for a man to live in freedom with the emphasis on sexual escapades with pliable women and he knows he has his jailor's number. This is where Stewart's satirical skills really come to bear
Just at the point when the thought occurs as to what's happening on the outside world, Bahari is allowed to phone his wife and Stewart uses a succession of clips, onscreen headlines, texts, headlines and news bulletins to show that there has been a massive campaign on the reporter's behalf. It's a clever device as is an earlier sequence in which background information and personal details about the reporter are conveyed as he makes his way through busy streets in which people and places appear on shop windows and the walls of buildings.
It makes for a thoughtful and timely film as many reporters are in harm's way around the world. Cinematographer Bobby Bukowski captures the bustle of the first half and claustrophobia and dread of the second while composer Howard Shore mixes musical styles effectively between east and west.
Venue: Toronto International Film Festival. Screens at the London Film Festival Oct. 12; Cast: Gael Garcia Bernal, Kim Bodnia, Shohreh Aghdashloo, Dimitri Leonidas, Claire Foy, Nasser Faris, Miles Jupp; Director: Jon Stewart; Writer: Jon Stewart based on the book "Then They Came for Me" by Maziar Bahari; Director of photography: Bobby Bukowski; Production designer: Gerald Sullivan; Music: Howard Shore; Costume designer: Phaedra William Dahdaleh; Editor: Jay Rabinowitz; Producers: Scott Rudin, Jon Stewart, Gigi Pritzker; Production: Open Road Films, OddLot Entertainment. No rating, running time 104 minutes