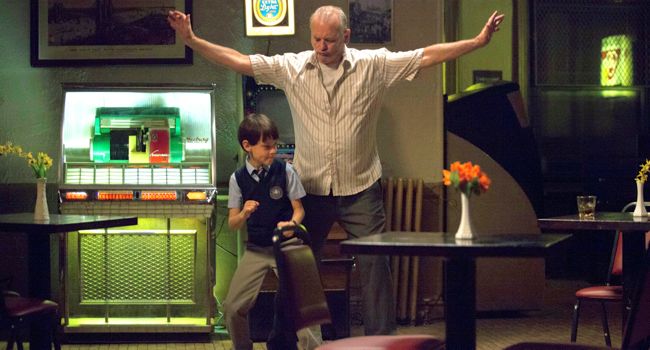 By Ray Bennett
TORONTO – Bill Murray is just the way you want him in Theodore Melfi's engaging comedy "St. Vincent" as an ageing ragamuffin and dedicated grouch whose gruff exterior is breached by a determined kid who won't take any of his shit.
Murray employs his expert line readings and splendid timing as a wastrel who is genuinely unpleasant on the surface while young Jaden Lieberher is a marvel as the intelligent and articulate boy named Oliver so that while the film is sentimental it does not get bogged down.
They meet when Oliver and his mother Maggie (Melissa McCarthy) move in next door to Vincent and the moving guys accidentally break off a tree branch that lands on the old coot's ramshackle convertible. Vincent has just drunkenly destroyed his own garden fence as he reversed his car into his drive but he immediately demands restitution for all the damage.
When Maggie is forced to leave Oliver alone in order to report to work, Vincent agrees to watch the boy … for a fee … and he becomes his regular babysitter. Writer-director Melfi contrives some entertaining scenes as the two clash and we learn that Maggie is in the middle of a custody battle and must work long hours at a local hospital to pay for Oliver's school fees.
The lad attends a Catholic school where the class has a wide ethnic and religious mix with a teacher who is a warm and supportive priest played by Chris O'Dowd. The school is not without its bullies, however, and when Oliver takes a beating, Vincent's temperament comes in handy.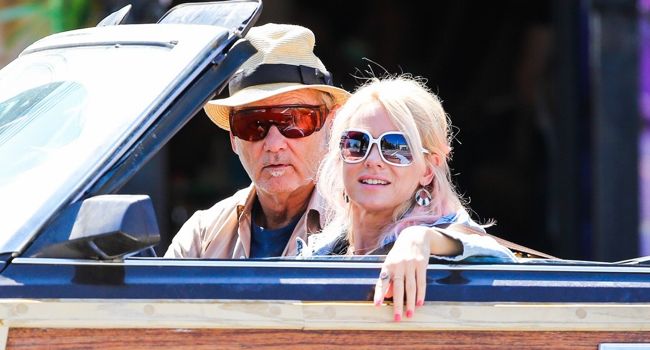 Meanwhile, a Russian striptease dancer and part-time "lady of the night"  of Vincent's acquaintance named Daka (Naomi Watts) has become pregnant and Vincent is bothered by the enforcer (Terrence Howard) for a local bookie who needs his money.
Oliver is around for these encounters and he also senses cracks in Vincent's crusty exterior when he accompanies him to a local clinic where Vincent dons a doctor's white coat and visits a lovely but frail woman named Sandy (Donna Mitchell), whose identity becomes significant.
When the priest teaches about saints and suggests that many people may be saints even if they are unheralded, he asks each member of the class to research and nominate an individual for sainthood. Oliver decides upon Vincent and the story follows as he  speaks to people who really know him and learns his secrets.
It could become unspeakably cloying but not in Melfi's hands and with Murray in top form as an almost irredeemable malcontent and the remarkably self-contained Lieberher impressive as the boy. McCarthy, for once, plays a normal and sensible human being while Watts brings grit, sly wit and a convincing accent to her Russian hooker.
Composer Theodore Shapiro, whose credits include "The Devil Wears Prada" and "Tropic Thunder", has a polished way with scores for comedies and he makes sure the ending does not become syrupy.
Venue: Toronto International Film Festival; Opens: US Oct. 24, The Weinstein Company / UK: Dec. 5, Entertainment. Cast: Bill Murray, Melissa McCarthy, Naomi Watts, Chris O'Dowd, Terrence Howard, Jaeden Lieberher, Dario Barosso, Donna Mitchell; Director: Theodore Melfi; Writer: Theodore Melfi; Director of photography: John Lindley; Production designer: Inbal Weinberg; Music: Theodore Shapiro; Costume designer: Kasia Walicka Maimone; Editors: Peter Teschner, Sarah Flack; Producers: Peter Chernin, Jenno Topping, Theodore Melfi, Fred Roos; Production: Chernin Entertainment; Not rated, running time 102 minutes.