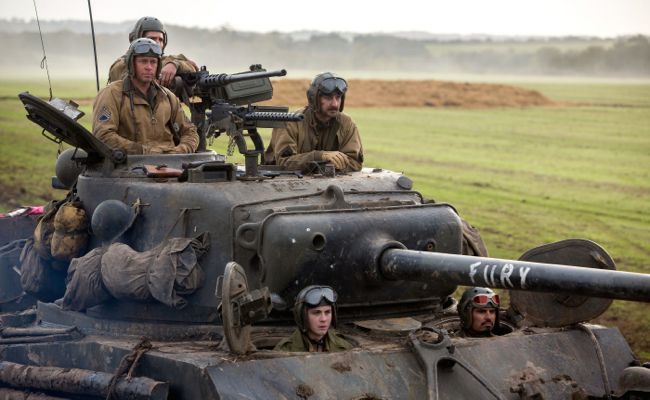 By Ray Bennett
The new Brad Pitt World War II film "Fury" is an old-fashioned combat picture with tough guys familiar from many platoon yarns but it is very modern in its fast and furious editing and taste for acres of gore.
Written and directed by David Ayer, whose writing credits include Denzel Washington's "Training Day" and who wrote and directed the cop procedural "End of Watch" (2012) starring Jake Gyllenhaal, "Fury" is about tank warfare at its very worst.
Set in April 1945 when the Nazis were on the run but under Hitler's mad orders were made to fight ever more ferociously, it follows one US Army Sherman Tank as it attempts to save soldiers behind enemy lines and hold ground so that the demolition of the Third Reich may be as swift as possible.
Pitt plays Sgt. Don "Wardaddy" Collier, commander of a battle-hardened tank crew that has seen action in North Africa, France, Belgium and now Germany. The others are Boyd "Bible" Swan (Shia LaBeouf), Trini "Gordo" Garcia (Michael Peña) and Grady "Coon-Ass" Travis" (Jon Bernthal). Their shared experience of horror and dependence upon each other for survival has led to an intimacy they can express only in rugged banter and hostility.
They just lost one of the tank drivers and when a callow youngster named Norman Ellison (Logan Lerman) shows up to take his place, misdirected from the typing pool, the film becomes the story of the youngster's initiation into the foulest conflicts imaginable.
Ayer does not set out to portray the squad as American heroes off to win the war but rather as deeply coarsened survivors whose behaviour has been reduced to the basest instincts required to kill and not be killed.
There is a lot of killing and lots of gore, which will turn off many but it's serious, brutish and nasty, which makes a welcome change from the cartoon antics of Pitt's last war film, Quentin Tarentino's cretinous "Inglourious Basterds". The actor has demonstrated serious acting chops in movies such as "The Assassination of Jesse James by the Coward Robert Ford" and "Killing Them Softly" and he renders Wardaddy as a complex warrior.
LeBeouf, Peña and Bernthal also throw themselves into their roles with uncouth grit and just occasional hints of vulnerability. Lerman carries the weight of his character's descent into a nightmarish world with considerable skill. Always reliable British actor Jason Isaacs makes a convincing US senior officer.
Andrew Menzies's production design, Roman Vasyanov's cinematography and the editing of Dody Dorn and Jay Cassidy help greatly along with composer Steven Price's sturdy music, which cements the strides he made with his Oscar-winning score for "Gravity" with a very different sound mix to deal with.
The film is extremely loud with all the fighting effects established in "Saving Private Ryan". Ayer stages tremendously impressive set pieces in which the action is frantic but always clear. These include the tank's entry into a town held by Nazis who kill any German not willing to fight, a standoff between five vulnerable Sherman tanks against an almost invincible Nazi Tiger tank, and the climax in which the broken tank must try to hold a vital crossroad against fanatical SS troops.
There's a quieter interlude in a conquered German town where the US troops binge on food, booze and women and Wardaddy and the kid stumble upon a woman (Anamaria Marinca) and her beautiful younger female cousin (Alicia von Rittberg). In many ways, the sequence is more tense than the battle episodes as a degree of tenderness is smashed when the others from the tank crew burst in drunk and aggressive.
It's a measure of Ayer's control that he lets this event play out with increasing tension and it serves as a reminder of perhaps who these soldiers were before they became killing machines and what they might be again.
"Fury": Opens: UK Oct. 22 / US Oct. 17; Sony Pictures; Cast: Brad Pitt, Shia LaBeouf, Logan Lerman, Michael Pena, Jon Bernthal, Jason Isaacs, Brad William Henke, Jim Parrack, Xavier Samuel, Scott Eastwood, Kevin Vance, Anamaria Marinca, Alicia von Rittberg; Director-screenwriter: David Ayer; Director of photography: Roman Vasyanov; Production designer: Andrew Menzies; Music: Steven Price; Costume designer: Owen Thornton; Editors: Dody Dorn, Jay Cassidy; Producers: Bill Block, David Ayer, Ethan Smith, John Lesher; Executive producers: Brad Pitt, Sasha Shapiro, Anton Lessine, Alex Ott, Ben Waisbren; Production: Columbia Pictures, QED International, Le Grisbi, Crave Films; Rating: UK: 15 / US: R; Running time, 134 minutes. Watch the trailer