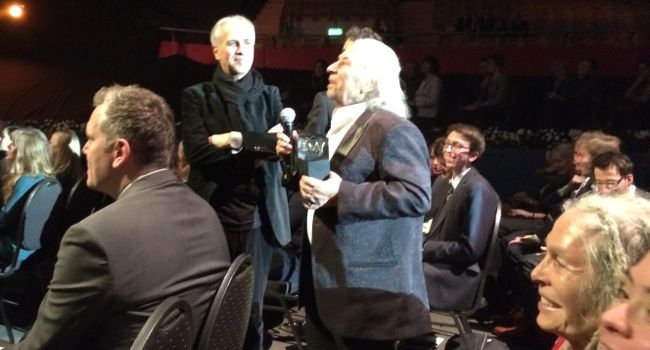 By Ray Bennett
GHENT, Belgium – Oscar-winning French composer Francis Lai, 82, was visibly moved by a prolonged standing ovation after he accepted a Lifetime Achievement Award on Saturday night at the 14th World Soundtrack Awards.
Fellow French composer Bruno Coulais presented the prize to Lai in the audience where he listened with evident delight to a performance of his film scores by the Brussels Philharmonic Orchestra conducted by Dirk Brossé.
At a press conference earlier in the day, the man who won the Academy Award and Golden Globe for best original score for "Love Story" in 1971, said that he became a film composer by accident. He started out as a songwriter and only when Claude Lelouch asked him for a couple of songs for "A Man and a Woman" (1966) did he work in feature films.
"Claude was so pleased that he replaced some of the dialogue with my music," Lai said with remembered astonishment. The film won  two Oscars for original screenplay and best foreign-language film in 1967 and Lai's film scoring career was launched.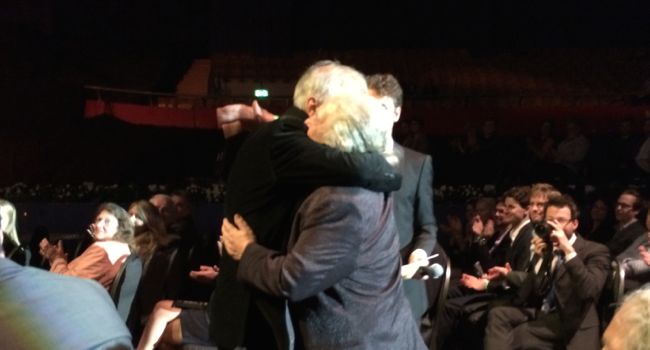 Concert highlights included the indelible song from "A Man and a Woman" performed by Clara Cleymans and Helmut Lotti, Lai's original piano arrangement of the theme from "Love Story" and several cues from "Bilitis" with vocalist Joke Cromheecke. Lai said earlier that he believes romantic songs will always play a role in movies: "They will always exist because emotional communication is so important."
Alexandre Desplat, who has been a Gent regular, could not attend this year but he sent amusing videos by way of thanks for his two awards. He was named Composer of the Year for his prodigious output that included scores for "Godzilla", "Marius", "Philhomena", "The Monuments Men", "Venus in Fur" and "Zulu".
Somewhat surprisingly, Desplat's splendid score for "The Grand Budapest Hotel", which will almost certainly figure in awards for this year, also was included and it won him the prize for best original film score over Oscar- and Bafta-award winner Steven Price's remarkable music for "Gravity".
The young British composer, who has followed up with a sumptuous score for the Brad Pitt war picture "Fury", took it with good grace as he said that established stars Desplat, John Williams and Thomas Newman had been more than gracious when he beat them to the Academy Award.
British composer Daniel Pemberton was on hand to accept his award as Discovery of the Year for his scores for "The Counselor" and "Cuban Fury" while Gabriel Yared appeared to announce that Pharrell Williams had won the award for best song for "Happy" from "Despicable Me 2" while Michelino Bisceglia won the public choice prize for his music in "Marina".
French composer Cyril Molesti won the Saban Award for the most original composition by a young European composer in a competition that had 45 submissions. The challenge was to compose a cue to replace one by Nino Rota for a clip from Federico Fellini's "8½".