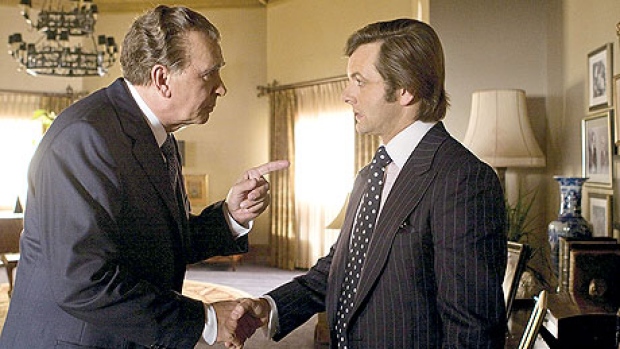 By Ray Bennett
Anthony Quayle created onstage the role that Laurence Olivier took in the film version of the mystery drama "Sleuth" and when I asked him if it was any consolation that the great knight of English drama had displaced him, Quayle said: "No, it was my fucking role!"
So it's excellent news from Hollywood that Universal has seen the light and signed Frank Langella to star with Michael Sheen (pictured above) in Ron Howard's film version of Peter Morgan's terrific play "Frost/Nixon," which he does in the Donmar Warehouse production currently on Broadway.
The 69-year-old Langella would not have sprung readily to mind to play the disgraced former U.S. president so it was an inspired bit of casting by the Donmar and the play's director Michael Grandage.
The names of Warren Beatty, Tom Hanks and Kevin Spacey were bandied about for Ron Howard's film version but Langella earned the right to recreate his stage performance on film.
He has had a topsy-turvy career since making a splash in Frank Perry's 1970 film "Diary of a Mad Housewife." But he's always been a sly and effective performer in such roles as William Paley in George Clooney's "Good Night. And Good Luck" a couple of years ago and as Clare Quilty in Adrian Lyne's "Lolita" in 1998.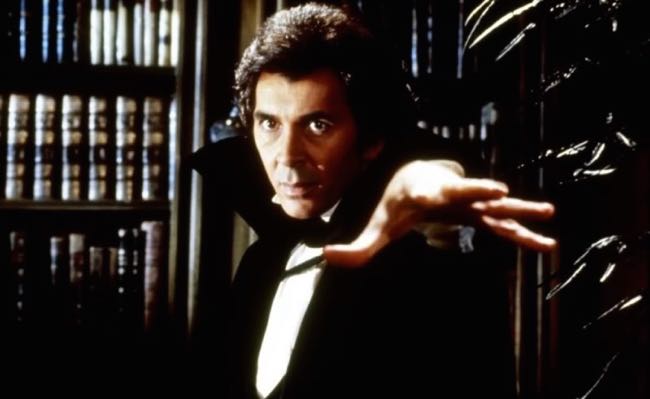 Langella was sensational as the silky smooth Count in John Wulp's inspired 1977 staging of the play "Dracula" (above), which I saw at Detroit's Fisher Theatre as it headed for Broadway. Written in 1927 by Hamilton Deane and John L. Balderston, the play originally starred Bela Lugosi.
The revival, which ran for 925 performances, cleaned up at the Tony Awards with Langella and director Dennis Rosa among the prizewinners. John Badham later made a movie version starring Langella with Laurence Olivier as Van Helsing. The Tony Awards and, who knows, the Oscars, could also be in the future for Langella, Sheen and "Frost/Nixon."
Read my review of 'Frost/Nixon'