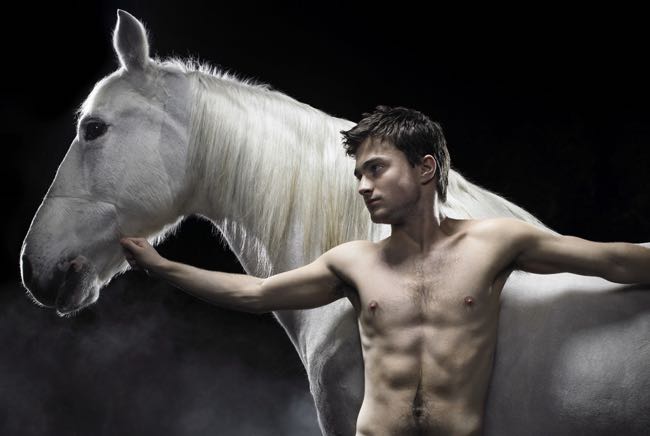 By Ray Bennett
LONDON – A nod is as good as a wink to a blind horse, so they say, and since there are six sightless steeds in the West End revival of Peter Shaffer's overwrought 1973 drama "Equus", you can just imagine how much winking and nodding goes on.
There's some nudge-nudge, wink-wink too as Daniel Radcliffe, Harry Potter himself, prances about onstage in his birthday suit quite a bit.
The play is an anguished affair about a troubled boy who maims six horses by stabbing them in the eyes with a hoof pick and the psychiatrist who comes to see the boy's actions as a ritualistic act of worship. Twaddle, clearly, but with Radcliffe butt-naked, "The History Boys" star Richard Griffiths employing his noble sadness as the shrink, and some very dynamic staging, the production will no doubt be a hit.
Thea Sharrock's precise direction, John Napier's vivid set design, David Hersey's dramatic lighting, and Gregory Clarke's incisive sound design make the best of Shaffer's symbolism with the animals depicted by six very tall men on high-stepping wire shoes and metallic horse-head masks. It is a triumph of style over substance.
The play feels terribly dated. Perhaps in the early 1970s it was shocking to be told that passion, however misguided, must be swamped by conformity. Maybe the thought of a young man being so nasty to animals was horrifying then while now we know about teenaged suicide bombers and child soldiers toting machetes and AK47s in Africa.
In order to make his case for the young man's idealistic innocence, Shaffer turns the psychiatrist into a self-hating figure who has set aside his love of Greek myths and gods, history and travel, in order to sustain an empty marriage.
When the young Alan Strang (Radcliffe) is sent to his mental health clinic by a sympathetic magistrate (Jenny Agutter), the analyst uses every trick of his trade to draw out the boy's secrets. At first inarticulate, Alan gradually tells of his emotional alienation from strict parents and the lasting impression of a childhood incident when a rider swept him up onto a horse's neck and they galloped by the sea.
The boy's parents are stereotypes, however. The father (Jonathan Cullen) is a dour English socialist with a secret taste for pornography. The mother (Gabrielle Reidy) is a wizened Scottish Christian who hasn't really been happy with her son since Satan took him over as a lad.
As Dysart draws the truth from the boy, the events of the fateful night are enacted with Alan seduced by the pretty stable girl (Joanna Christie). The actress is also nude in the scene but her nubile charms are not enough to distract young Potter, sorry, Radcliffe, from his equine passions.
All the actors do what is required of them and Radcliffe looks confident on stage even in the buff while Griffiths does his best to make sense of the nonsense he's called upon to utter. At one point, the psychiatrist and student of the gods tries to speak for the iconic Equus, to get into the mind of the horse itself, and concludes that his ramblings are meaningless but unsettling. Much like the play, which given all the trappings is unsettling but meaningless.
Gielgud Theatre, London (Feb. 27, 2007, runs through June 7); Cast: Martin Dysart: Richard Griffiths; Alan Strang: Daniel Radcliffe; Frank Strang: Jonathan Cullen; Dora Strang: Gabrielle Reidy; Hester Saloman: Jenny Agutter; Jill Mason: Joanna Christie; Harry Dalton: Colin Haigh; Young horseman & Nugget: Will Kemp; Nurse: Karen Meagher; Playwright: Peter Shaffer; Director: Thea Sharrock; Designer: John Napier; Lighting: David Hersey; Movement: Fin Walker; Sound: Gregory Clarke. Horses: Joel Corpuz, Jami Reid-Quarrell, Greig Cooke, Temujin Gill, Jonathan Readwin; Presented by David Pugh and Dafydd Rogers.
This review appeared in The Hollywood Reporter