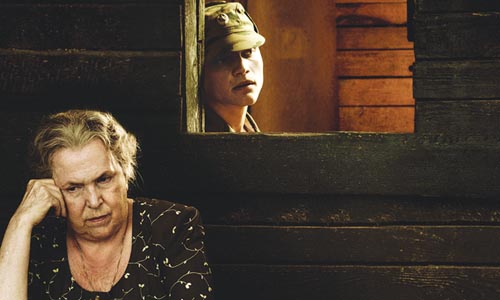 By Ray Bennett
CANNES – The value to a movie of a beautiful orchestral score is made clear in Russian director Alexander Sokurov's "Alexandra," an austere glimpse of life in war-torn Chechnya.
Andre Sigle, who produced the In Competition film, also composed the music, and its sweeping warmth carries something of the soul of mother Russia to that bleak and torrid landscape.
The film offers a sympathetic view of independence-seeking Chechnya, where 50,000 civilians and 6,000 Russian soldiers lost their lives in the war of 1994. But it is also kind to the youthful soldiers who police the region where strife goes on. The picture should do well on the festival circuit and will be embraced in art houses.
Cinematographer Alexander Burov shoots with the colour washed out and Sokurov frames his shots of weary soldiers and their tanks and guns in classic form. They capture the noble features of Galina Vishnevskaya in the title role of an old woman visiting her grandson, a first-class officer who has served in the perilous area for seven years.
Sparse dialogue and a reluctance to impart information proves daunting at first but the film gets deeper as Alexandra's brief encounters with various officers and men reveal their isolation and fear. Grumpy but doughty, she clambers creakily onto railway carriages and military vehicles in the 100-degree heat in order to spend a little time the grandson she adores.
Their conversations gradually reveal old family tensions and resentments but his stalwart devotion to duty and demonstrable ability as a soldier do not completely mask the affection that lies beneath. Sokurov's tale takes on added dimension when Alexandra leaves the military camp to visit the nearby town where she intends to buy cigarettes and cookies for the poor young men in uniform.
Spurned by some locals, she is befriended by Malika (Raisa Gichaeva), a stall holder who take her to her humble dwelling to rest. Malik says, "Men can be enemies, but we are sisters right away."
Not a shot is fired in the film but the sense grows that a great tragedy is unfolding with no one able to do anything about it. Vishnevskaya is superb as the plucky old woman whose eyes convey the sadness of everything she sees but who has the gumption to insist to the Chechen woman that she must come to visit her. As the grandson, Svetsov captures the tough officer's masculine solitude that still allows him to braid his grandmother's hair tenderly.
Sigle's music, played by the Symphony Orchestra of the Mariinsky Theatre, features symphonic waves and gentle solos on piano and cello. Subtle for the most part, it sweeps in where necessary and goes a long way to inform the picture's melancholy and moving sensibility.