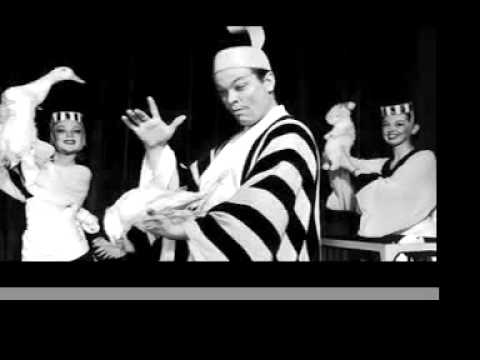 By Ray Bennett
LONDON – The concert presentation of the musical "Around the World," created in 1946 by Orson Welles and Cole Porter (below left) from the Jules Verne novel about Phileas Fogg traversing the globe in 80 days, has two more shows to go, on Sunday July 1 and 8, at the Lilian Baylis Theatre at London's Sadler's Wells.
With no sets or costumes, it still offers an intriguing glimpse at what the great showman set out to achieve. The 1946 production was fraught with typically Wellesian problems, as actor and writer Simon Callow relates in the second edition of his splendid biography, "Orson Welles: Hello Americans."
The Guardian reviewer Alan Warner praises Callow highly for the detail and texture of his research and writing. Warner says his description of the hugely ambitious but chaotic production, which featured 34 scene changes and the services of 55 stage hands, is especially exhilarating: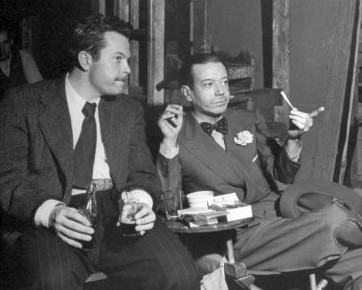 "The scene immediately following was supposed to be a backdrop obviously depicting London, and as an actress entered saying, 'Is this London?' practically all the drops for the entire show were lowered and raised alternately at lightning speed — all, that is, except the London one. The audience was, of course, enchanted. The final backdrop to fall showed a minor train-stop somewhere in the snow-clad Rocky Mountains. At this, an actor sticking doggedly to his script and looking up at the scene replied, 'Yes, this is London all right!'
"Things got tighter. The show was an extravaganza, different every night — a threnody to the theatre of Welles's childhood, or what he believed that theatre was. Backstage, Bertolt Brecht declared: 'This is the greatest thing I have seen in the American theatre. This is wonderful. This is what theatre should be.'
"Even in the 1980s Stanley Kauffmann wrote: 'Sometimes I meet someone who saw it. Immediately we bore everyone in the room by reminiscing about it.' But with the show's tragic, premature closing, its brief New York run was, 'as maliciously predicted by Irving Kahn, quite a few days less than Phileas Fogg's little trip.'"
Four songs from the show are on an album titled "The Ultimate Cole Porter Vol. 4″ available from Amazon. The songs – " Look What I Found," "If You Smile at Me," "Pipe Dreaming" and "Should I Tell You I Love You?" – are performed by Larry Laurence, who played Passepartout in the 1946 production. There's a DVD titled "Around the World with Orson Welles" available from Image Entertainment but it contains episodes of a traveling arts show that Welles made for Associated Rediffusion in the U.K. in 1955.
Welles also narrates a 50-minute documentary titled "Around the World of Mike Todd" that was made for ABC-TV in the U.S. in 1968. It's available on a two-disc DVD edition of Todd's 1956 film of "Around the World in 80 Days" from Warner Home Video.
Here's my review of the Lost Musicals presentation of "Around the World" from The Hollywood Reporter:
LONDON – Orson Welles conceived his musical version of Jules Verne's "Around the World in 80 Days" as a theatrical spectacular. With songs by Cole Porter and a stage filled with magicians, tumblers and fireworks, it debuted at the Adelphi Theatre in New York on May 31, 1946, but ran for just 75 performances.
The Lost Musicals concert presentation of the show staged wittily at London's Sadler's Wells lacks the pyrotechnics and razzmatazz but it provides a tantalizing impression of what the prodigiously talented Welles had in mind.
Director Ian Marshall Fisher, who founded Lost Musicals in 1989 with the aim of presenting to British audiences the lesser-known works of major American writers, provides the background to "Around the World" before introducing eight singers and a pianist who perform the songs and act out cleverly contrived scenes to tell the story.
Welles shot a series of silent movies to provide exposition for some of the more exotic spots on Phileas Fogg's fabled journey around the globe, and in their absence Jack Klaff, as Welles, describes each one from a script provided by the late Dick Vosburgh.
In his own production, Welles played Inspector Fix, the dogged Scotland Yard policeman who trails Fogg on his trek in the mistaken belief that the fastidious gentleman has obtained the large quantity of cash he carries from a bank robbery. Klaff plays Fix, too, as well as several shady ethnic characters that the inspector ineffectually impersonates.
The eight cast members — six men and two women — sit onstage, standing up to perform the musical numbers and act out the story to the accompaniment of Steven Edis on piano. Bryan Torfeh makes a believable Passepartout, who, unlike the Mexican Cantinflas in the 1956 film version, is an American sailor who has missed his boat and signs on as Fogg's manservant.
He is matched by Valda Aviks, as Passepartout's faithful squeeze Molly Muggins, and Valerie Cutko, as the Indian widow Missus Aouda, who falls for Fogg. Michael Roberts, Richard Stemp and Peter Kenworthy play the rest of the roles, male and female, to splendidly amusing effect.
"Around the World" has not been performed since its 1946 run, and that's really no mystery. Welles' star power sold the show originally along with his hugely ambitious onstage stunts that frequently didn't work. Porter's songs are not his greatest, though the ballads "Should I Tell You I Love You" and "Look What I Have Found" certainly are hummable.
There's a couple of novelty songs, "Snag Tooth Gertie" and "Whenever They Fly the Flag of Old England." And the songwriter's lyrical skill extends to finding a rhyme for Fogg's first name: "That smart Mr. Phileas, so Piccadilly-dillyous." But Porter wrote "Kiss Me Kate" the next year, and the songs from "Around the World" were soon forgotten. It's great fun that Lost Musicals has brought them back for a revival, however brief.
Presented by Lost Musicals at Lilian Bayliss Theatre, Sadler's Wells, London; runs through July 8; Credits: Music-lyrics: Cole Porter; Book: Orson Welles; Silent Screen movie dialogue: Dick Vosburgh; Director: Ian Marshall Fisher; Music director: Steven Edis. Cast: Orson Welles/Inspector Fix: Jack Klaff; Phileas Fogg: Peter Gale; Pat Passepartout: Bryan Torfeh; Missus Aouda: Valerie Cutko; Molly Muggins: Valda Aviks; Jevity/Lola/others: Michael Roberts; Runcible/Madame Liang/others: Richard Stemp; Cruett-Spew/Arab Spy/others: Peter Kenworthy.