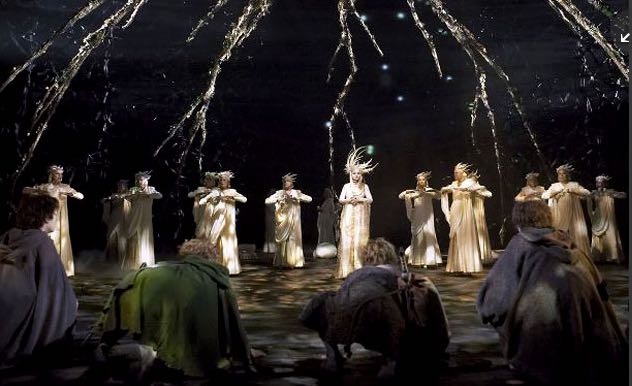 By Ray Bennett
LONDON — A transatlantic trip appears to have done wonders for the epic stage version of "The Lord of the Rings" that has just opened in the West End following a dire opening run in Toronto.
What was slammed as long and tedious in Canada has had 40 minutes trimmed and become a genuine theatrical spectacle that should please fans of the books and movies, and intrigue the uninitiated.
Not a musical in the traditional sense, the show boasts tunes with Bollywood and Celtic influences that serve as a soundtrack score to the action. There's plenty of action as the stage is filled with Tolkien's strange and colorful characters and many horrific beasts that occasionally stray out into the audience.
Many of the Toronto cast have stayed on for the new more streamlined production including James Loye as Frodo, Peter Howe as Sam, and the astonishingly nimble Michael Therriault as Gollum.
British veteran Malcolm Storry replaces Brent Carver as the wizard Gandalf and Laura Michelle Kelly, Olivier Award-winning star of "Mary Poppins," lends her extraordinary vocal power to the role of Galadriel.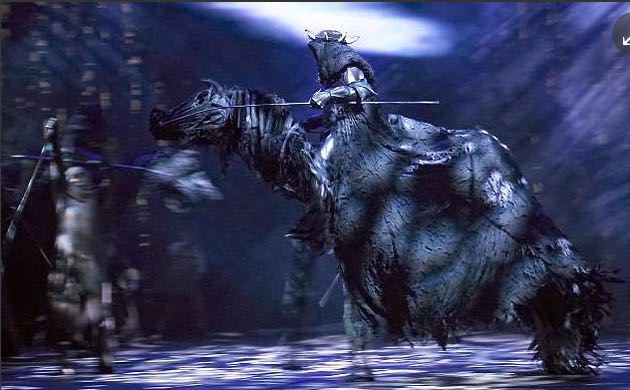 It's big and noisy and it's a major achievement in hydraulics as center stage rotates and moves up and down in dozens of pieces. Rob Howell's leafy set design extends far beyond the stage to the ceiling and walls of the theater, and creatures disguised in his ingenious costumes pop up amid the seats to scare audience members during the second brief intermission.
The dramatic elements of the story have no doubt benefited from the cuts although director Matthew Warchus could probably be even more brutal and cut the sequence involving the tree folk known as the Ents. Tolkien purists might object but those who find the whole story tosh anyway wouldn't be troubled and it would certainly move quicker.
The music has been correctly identified as Enya meets Riverdance and the sometimes atonal and always loud delivery is an acquired taste even with Kelly's impeccable vocal prowess. Still, Frodo and Sam's mission to dispose of the cursed ring amid wizards, Elves, and Orcs retains its schoolboy appeal. And Therriault's gymnastic portrayal of Gollum, with a voice so strangled it hurts, is a piece of theater not to be missed.
Venue: Theatre Royal Drury Lane, London (runs through March 28, 2008); Credits: Book and lyrics: Shaun McKenna and Matthew Warchus; Music: A.R. Rahman, Vartinna, with Christopher Nightingale; Director: Matthew Warchus; Choreographer: Peter Darling; Set and costume designer: Rob Howell; Lighting designer: Paul Pyant; Sound designer: Simon Baker (for Autograph); Moving Image director: The Gray Circle; Special Effects designer: Gregory Meeh; Illusions and magic effects: Paul Kieve. Cast: Frodo Baggins: James Loye; Sam: Peter Howe; Gandalf: Malcolm Storry; Strider: Jerome Pradon; Boromit: Steven Miller; Galadriel: Laura Michelle Kelly; Legolas: Michael Rouse; Gollum: Michael Therriault; Bilbo Baggins: Terence Frisch; Rosie: Kirsty Malpass; Pippin: Owen Sharpe; Merry: Richard Henders; Elranien: Alexandra Bonnet; Saruman: Brian Protheroe; Barliman: Tim Parker; Bill Ferny/Treebeard: Michael Hobbs; Glorfindel: Alma Ferovic; Arwen: Rosalie Craig; Gimli: Sevan Stephan; Haldir: Wayne Fitzsimmons; Steward: Tim Morgan.