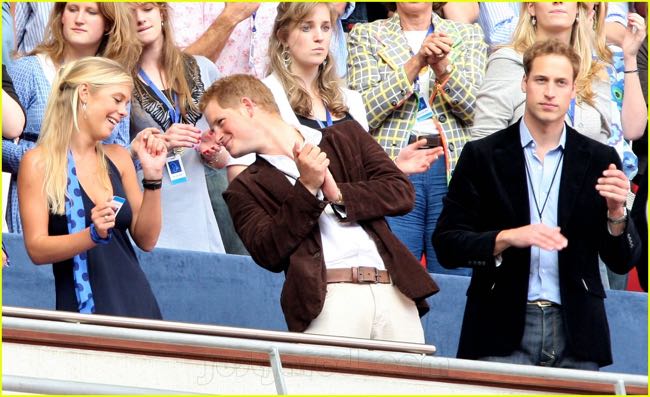 By Ray Bennett
By some strange alchemy the disparate elements of the Concert for Diana, ranging from P Diddy to Andrew Lloyd-Webber, Tom Jones to the English National Ballet, and Kanye West to Take That, meshed into a memorable six-hour party in London's new Wembley Stadium Sunday.
The event was organized by British princes William and Harry to celebrate the life of their mother Princess Diana on what would have been her 46th birthday but is the 10th anniversary of her death. Even Simon Cowell, one of several celebrities on hand to introduce the 24 acts, gave thumbs up to the future king of England and his brother for a well-produced show. The two appeared onstage twice to speak of their mother and thank everyone, and remained visibly entertained in the posh seats throughout the concert.
Perhaps it was the sentimental recollection of a beautiful lost woman who gave meaning to her empty existence by acts of grace and charity. Maybe it was the curious and anachronistic but spellbinding phenomenon of a community projecting its collective hopes onto a pair of favoured and in a way orphaned boys it chooses to call royalty.
Or it was just the determination of 63,000 people of all ages to have a good time in unexpected Sunday sunshine after days of drenching weather in a city on critical alert for acts of terrorism. Whatever it was, it worked.
The eclectic range of artists was said to represent both Diana's favorites and the taste of her sons. They took full advantage of the audience's good mood with Rod Stewart, Tom Jones and Roger Hodgson from Supertramp performing popular hits to loud applause. The crowd yelled for more when ageing rockers Status Quo performed just one song but they were mollified when re-formed boy band Take That did three.
Duran Duran, Bryan Ferry and Elton John also proved to be crowd pleasers and a parade of young stars including James Morrison, Joss Stone, Fergie (from Black-Eyed Peas), Lily Allen, Nelly Furtado and Natasha Bedingfield earned their spurs.
Young British rockers the Feeling had the joint rocking and more energy was added by the band Orson, Pharrell Williams and Kanye West who did an athletic medley racing back and forth across the stage wearing peculiar white sunglasses.
P Diddy oozed his particular brand of sophistication in a white suit and shirt with black tie accompanied by a string section of beautiful young women playing over heavy percussion. He devoted "Missing You," derived from Sting's "Every Breath You Take," to Princess Diana.
The English National Ballet's performance of "Swan Lake Act. 4" earned noisy appreciation and the medley of Lloyd-Webber show tunes featuring Sarah Brightman, Andrea Bocelli and others, while hit and miss, also went over well.
Dennis Hopper, Gillian Anderson, Jamie Oliver, Sienna Miller and tennis champions Boris Becker and John McEnroe, in town for the Wimbledon tournament, were among star presenters. London-born "24" star Kiefer Sutherland was given a huge welcome although the longest standing ovation of the day was reserved for Los Angeles-bound English soccer superstar David Beckham, who appeared overwhelmed by the acclaim.
Bill Clinton and Tony Blair sent video messages and the show was studded with filmed tributes from people involved in the many charities and organizations that benefited from Diana's involvement.
Elton John opened the show with his earliest ballad "Your Song" instead of what many people hoped would be a repeat of the version of "Candle in the Wind" that he sang at Diana's funeral. The singer also was due to provide a blowout finale but his set was truncated by a local noise curfew and a promised closer of "Crocodile Rock" never materialized. Instead, the show ended with a solemn video greeting from Nelson Mandela before the crowd slipped away.
Here are some notes I made as the show ran its course:
LONDON 5:30: Elton John kicks off the Concert for Diana on time with his first ballad, "Your Song," followed by the princes William, who says "This evening is about all our mother loved in life: her music, her dance, her charities and her friends," and Harry, who sent a message to British troops in the Middle East: "Be safe. I wish I could be there with you." Duran Duran have the crowd on their feet followed by James Morrison, Lily Allen, Fergie, the Feeling, Pharrell Williams and Nelly Furtado. Sienna Miller, Dennis Hopper and, getting huge applause, Kiefer Sutherland, pops up to introduce performers and Bill Clinton has sent a video message. Amazingly, on a weekend in which Britain has been drenched with rain, there are only puffy white clouds and blue skies above the brand new Wembley Stadium.
LONDON 7:00: The English National Ballet gets a very warm reception as they perform "Swan Lake Act 4″ followed by a 10-minute break in which the crowd does a faultless Mexican Wave. Ageing rockers Status Quo lead into Joss Stone, barefoot in a loose green dress, and then Roger Hodgson shows up to sing some songs from Supertramp's bestselling "Breakfast in America" album. His "Give a Little Bit," with just guitar and backup singers, has the crowd filling the stadium with its enthusiastic singing.
LONDON 8:30: Tom Jones knocks everyone's socks off with a jamming set with Aerosmith's Joe Perry sitting in. "Kiss" leads to a rocking version of the Arctic Monkeys' "I Bet You Look Good on the Dance Floor." Joss Stone joins him for "Ain't That a Lot of Love." Local favorites Will Young and Natasha Bedingfield perform and then Boris Becker and John McEnroe (in town for Wimbledon) introduce Bryan Ferry for three songs. Former Prime Minister Tony Blair's face on the video screens draws boos from the crowd but when he speaks in praise of William, Harry and Diana it turns to cheers. Cat Deeley introduces a segment featuring showtunes by Andrew Lloyd Webber. Anastacia breaks eardrums with "Superstar." "The Sound of Music" stage star Connie Fisher contributes an ordinary reading of "Memory" from "Cats." Andrea Bocelli moves everyone with "Music of the Night" from "Phantom of the Opera" before Josh Grabon and Sarah Brightman put people to sleep with "All I Ask of You" from the same show. But then Donny Osmond, Jason Donovan and the winner of Lloyd-Webber's latest TV casting show Lee Mead wake them up with a crowd-pleasing rendition of "Any Dream Will Do" from "Joseph and the Technicolor Dreamcoat." In the break someone named Beckham shows up to chat backstage. There's not a cloud in the sky.
LONDON 9:30: Kiefer Sutherland introduces Rod Stewart who demonstrates he can still pull out all the stops on "Maggie May," "Baby Jane" and "Sailing." Kanye West does a positively athletic couple of songs mostly spent dashing from one end of the stage to the other wearing peculiar white sunglasses. P Diddy arrives looking typically suave in a white suit, white shirt and black tie. With a string section of beautiful young women over heavy percussion, he wins a huge reception for "Missing You." David Beckham strolls onto the stage for the biggest applause and loudest cheers of the evening. England's soccer superstar appears overwhelmed by the welcome. He introduces the re-formed Take That with a droll delivery: "Ten years ago, they had millions of girls … in tears." The boys do "Shine," "Patience" and "Back for Good," obviously retaining the affection of their fans. Ricky Gervais does a comedy bit to fill while Elton John gets ready for the show's finale kicking off with "Saturday Night's All Right."
LONDON 11:45: Those hoping for a repeat performance by Elton John of the version of "Candle in the Wind" he sang at the funeral of Princess Diana were disappointed Sunday night as the performer's finale of the Concert for Diana was cut short due to the local council's noise curfew. Princes William and Harry walked onto the stage after John had sung his second number, "Tiny Dancer" and gave him the bad news. He had been expected to close with "Crocodile Rock" but it was also rumoured that he might perform "Candle in the Wind." In the event, after William thanked everyone concerned, John made his farewell leaving the audience with a sober video message from Nelson Mandela extolling Diana's virtues. And then the princes are heading to the Wembley Arena next door for the after-show party with the artists who performed and 500 of their personal friends. The crowd slipped quietly away and it was to the credit of stadium management and the police that getting home from the new Wembley Stadium, even with 63,000 people there, was made so easy.