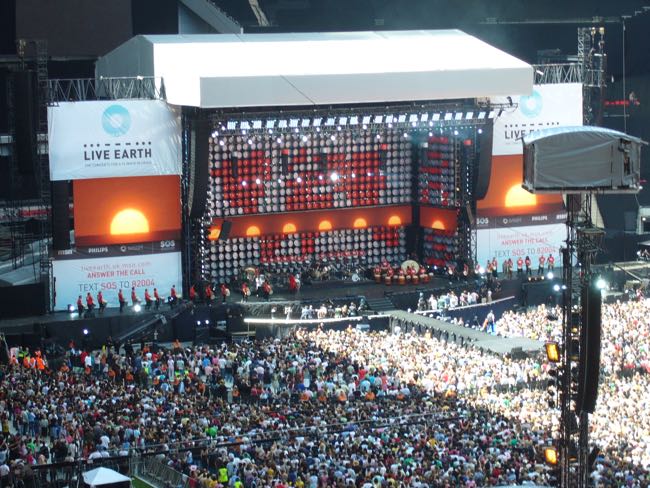 By Ray Bennett
LONDON — A lack of focus and constant lectures on the dire state of the world meant that the 70,000-plus crowd at Wembley Stadium for the nine-hour London Live Earth concert had to cherry-pick its pleasures. There were many as the Black Eyed Peas, the Red Hot Chili Peppers, Metallica and the Foo Fighters, all in top form, were not going to let the day get away without a party.
Artists such as Duran Duran, James Blunt, the Beastie Boys, Genesis, who opened the show, and Madonna, who closed it, played to their constituencies. U.K. bands Razorlight, Snow Patrol, Bloc Party and Keane contributed solid sets while another British group, Kasabian, Scottish singer Paolo Nutini, Ireland's Damien Rice, and jazzy Corinne Bailey Rae made dazzling impressions. And Spinal Tap provided a few laughs.
The weather was kind but the event's obvious contradictions and fuzzy focus were not helped by the stream of celebrities including Chris Rock, Eddie Izzard, Gerard Butler, Kyle McLachlan and Thandie Newton delivering homilies on the importance of turning off the lights at home.
Late in the show, poor Terence Stamp had to oversee a symbolic switching off of Wembley's lights, which prompted a light show of camera flashes. Only when hot British comic Russell Brand came on in the evening with his bright and challenging observations between acts did the production achieve much cohesion.
There were no seats on the pitch as there had been at last week's Concert for Diana, so the field was packed with standing fans obviously eager for a good time. Genesis took to the stage following a thunderous percussion introduction but singer Phil Collins appeared to be performing by rote. Razorlight and Snow Patrol picked up the pace but it was Damien Rice's "The Blower's Daughter" that caught the imagination and his delivery, with David Gray, of the fatalistic "Que Sera Sera" had the crowd singing.
Kasabian did a very lively set followed by Nutini, who seems awkward on stage but has a rich and impressive voice and a dynamite band. The Black Eyed Peas bounded out in obvious high spirits and while an attempt to mark the solemnity of the day's cause dampened things for a bit, the band recovered in a soaring delivery of "Where Is the Love?"
Bailey Rae did her hit "Put Your Records On" and, in keeping with the day's theme, performed Marvin Gaye's "Mercy, Mercy Me" with John Legend, who had done a single number earlier. New York's U.K.-based Terra Naomi did her hit "Say It's Possible." Duran Duran, enjoying a second bite at the big time, received a warm reception from their fans, but nothing like the noise made when the Red Hot Chili Peppers came on.
The stadium was filled to capacity by then and the band's barnstorming enthusiasm had everyone rocking. Metallica also got a very loud greeting and while the accompanying clips of old elephants with long tusks seemed fitting, they haven't forgotten how to kick up a ruckus.
Rob Reiner was on hand to introduce Harry Shearer, Michael McKean and Christopher Guest in the roles from their 1984 movie "This Is Spinal Tap." They did "Stonehenge," complete with fake rocks and Druids, "Warmer Than Hell" and "Big Bottom," and if it wasn't terribly funny, the lingering goodwill towards the film got them through.
The evening proceeded with Blunt followed by the Beastie Boys and then the Pussycat Dolls, trying desperately to appear sexy but not succeeding. Dave Grohl and the Foo Fighters could have gone on all night with their fiery rock 'n' roll and probably would have but for the need for another lecture about climate change and Madonna's finale.
The incredibly fit but coldly mechanical star performed a song she'd written for the night titled "Hey You," in which she personally ordered everyone to save the world. "Ray of Light" led to "La Isla" and "Hung Up," with the lyric "Time goes by so slowly," which suddenly appeared to be true.
Here are some notes I made during the Live Earth concert:
LONDON 3:15 — Wembley Stadium is jammed for the second weekend in a row for the U.K. leg of the worldwide phenomenon called Live Earth. It's standing room only on the pitch compared to the all-seater for last week's Concert for Diana and once again the British weather is cooperating with bright sunshine. Genesis, Razorlight and Snow Patrol have each done effective sets but the mood remains sober due to the frequent live and filmed reminders of earth's dire straits. So far, an audience that is obviously ready to party has generated what atmosphere there is. "Are you looking forward to Spinal Tap? We are!" says Snow Patrol frontman Gary Lightbody, speaking for everyone.
LONDON 4:45: Damien Rice and David Gray perform together, with just guitars, on a platform that stretches into the audience. Rice's lilting but deceptively rich voice fills the stadium with a pleasing rendition of his song "The Blower's Daughter" and the pair of them have everyone joining in loudly on the fatalistic anthem that sums up English football hopes in the new Wembley more than saving the planet: "Que Sera Sera." After some more lecturing, this time from "300" star Gerard Butler, cheery U.K. rockers Kasabian start on time and quickly re-engage the crowd. Thandie Newton comes on to talk about conserving power and using it responsibly, urging people to turn appliances off rather than leaving them on stand-by. She's supposed to cross over live to Giants Stadium, New Jersey, for Al Gore but he's not ready so the British "Crash" star has to vamp, which she does with good humor. Gore comes on the screens to start the American leg and recite the Live Earth pledge. The former veep paraphrases Lincoln: "We must disenthrall ourselves to save the planet." He introduces Trisha Yearwood and Garth Brooks on the New Jersey stage, but the country stars are immediately cut off in London in favor of Paolo Nutini. The fourth-generation Scotsman cuts a shy, withdrawn image but he has a strong voice and a thumping band. Soon afterwards, the Black Eyed Peas bound out onto the extended platform and the house is jumping until they pause for an earnest but unfortunately rhymed rap plea on behalf of our poisoned planet. The Peas save the day, though, with a dynamic delivery of their song "Where is the Love?"
LONDON 8:15: "Desperate Housewives" star Kyle MacLachlan introduces Corinne Bailey Rae who does "I'd Like To" followed by Marvin Gaye's "Mercy, Mercy Me" with John Legend and her own hit "Put Your Records On." Terra Naomi and Keane are next before hot British comic Russell Brand brings some welcome levity to the event with his savvy patter. He's also there to introduce heavy-metal rockers Metallica, who are greeted with a huge roar. Their set, which includes "Nothing Else Matters," is accompanied by film of some ageing elephants with long tusks, which seems appropriate, but they haven't forgotten how to kick up a ruckus. Ricky Gervais comes on to say the show is running late and he will be off the stage in 30 seconds, which is good news. He brings out Rob Reiner in the guise of Marty DiBergi, manager of Spinal Tap. DiBergi says the band thought their 1984 film was a pile of crap so he is pleased to be reunited with them. They have two prime attributes, he says, "Volume and punctuality." The boys — Michael McKean as David St. Hubbins, Christopher Guest as Nigel Tufnel, and Harry Shearer as Derek Smalls — come out looking typically dazed and confused and launch into "Stonehenge" complete with fake rocks and Druids. "Whatever you do, don't exhale, we've had quite enough of that," says McKean in his bright yellow hair. They do "Warmer Than Hell" with familiar English places being indicted for Satanism and then bring on "every known bass player in the known universe," or at least a dozen, to play "Big Bottom." The set is not hilarious but "This is Spinal Tap" is so fondly recalled that they get a bye.
LONDON 11:00: James Blunt, you're beautiful for not singing that song. Blunt has a certain portion of the female part of the audience in the palm of his hand and gets everyone joining in on Cat Stevens' "Wide World." The Beastie Boys ramp up the energy level if you like that kind of thing. A Shakira number is beamed in from Hamburg but not many pay attention. The absurdly posturing and tuneless Pussycat Dolls strain every fiber attempting to be sexy to no avail but then the Foo Fighters burst onto the stage with their fiery rock 'n' roll and the evening is back on track. "All My Life" leads into "My Hero" with the entire audience chanting along. Frontman Dave Grohl dives into "Times Like These" and "The Best of You," taking the whole stadium right along with him. Actor Terence Stamp is lumbered with the job of the final lecture of the evening and to oversee the symbolic gesture of dimming Wembley's electricity. Who else to bring back the light and close the show than Madonna, empress of self-satisfaction? In her fiercest Evita pose, legs set firm in a Trilby hat and Rosie the Riveter dress and backed by a choir of schoolchildren, she sings "Hey You," personally ordering each and everyone of us to go out and save the world, or at least jump up and down. Right, then. Displaying extraordinary fitness but a mechanical coldness, Madonna doffs the dress and does a gypsy number with a pair of very happy musicians who favor hopping on one leg, segues into "Hung Up" with the repeated line "Time goes by so slowly," which the crowd enjoys but sounds suddenly apt.