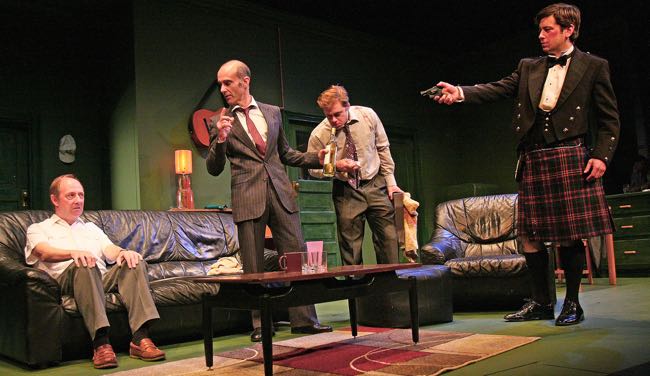 By Ray Bennett
LONDON – One man's terrorist is another man's freedom fighter, the old saying goes, and Richard Bean attempts to come to grips with the paradox in his alternately funny and savage drama "The Big Fellah," about Irish Republican Army supporters in New York.
Spanning the three decades at the end of the 20th century, the play centers on a top IRA fundraiser named Costello (Finbar Lynch) whom everyone calls the Big Fellah. In the first scene, he addresses the converted at a meeting in the Bronx and declares his view that though war might be hell, tyranny is even more disgusting.
It's the justification for his involvement in running guns and explosives to Ireland as well as helping fugitives from Britain escape to Canada. For that, he uses the apartment of gullible New York fireman Mike (David Ricardo-Pierce), whose devotion to the cause is solid if not as voluble and dangerous as Costello's tame cop Tom Billy Coyle (Youssef Kerkour).
Among those who come to stay are Ruari O'Driscoll (Rory Keenan), an IRA gunman wanted for killing a soldier, and Elisabeth (Claire Rafferty), who has fallen afoul of the IRA leadership's sexism and is suspected of being a mole.
Into the fray comes a genuinely psychotic hard man from Ireland named Frank McArdle (Fred Ridgway), who sees violence as the answer to every problem. There also is comely stranger Karelma (Stephanie Street), who is not what she appears to be.
The players interact and age credibly as years go by, and the nature of the IRA's activities start to involve Lybia and acts of violence like packing explosives into a shipment of teddy bears. The FBI is on the case, and Bean infuses the tight little band with suggestions of betrayal that up the suspense ante between the laughs.
Keenan gets most of them thanks to Ruari's droll wit that enables him to skate by some of the worst elements of the group's actions. Lynch is sinuous and sinister as the silver-tongued leader who is much tougher than he appears, and Ridgway makes his hard man very scary with lumpen directness and sure-handed application of an electric drill.
Director Max Stafford-Clark allows the pace to slacken a bit too much as the decades pass, and the play would benefit from sharper transitions. But Bean's talent for tackling complex subjects with candor and insightful humor remains clear throughout.
Venue: Lyric Hammersmith, runs through Oct. 16; Cast: Finbar Lynch, Rory Keenan, David Richardo-Pierce, Stephanie Street, Youssef Kerkour, Claire Rafferty, Fred Ridgeway; Playwright: Richard Bean ; Director: Max Stafford-Clark; Production designer: Tim Shortall; Lighting designer: Jason Taylor; Sound designer: Nick Manning.
This review appeared in The Hollywood Reporter.