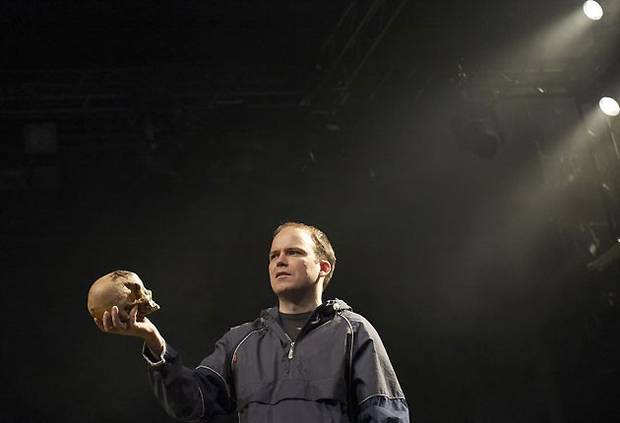 By Ray Bennett
LONDON – "Now I am alone," Hamlet says, and a key light immediately pins him down as a reminder that he never is alone. No one is ever alone in Nicholas Hytner's riveting production of the William Shakespeare play at London's National Theatre, which sets the drama in an oppressive police state.
In a modern setting with jets screaming overhead and soldiers bearing submachine guns, Rory Kinnear plays the sweet prince as an unruly student rebelling against the constrictions of an almost-Soviet society as much as against his uncle, the new king who has murdered his father to steal the throne of Denmark.
Patrick Malahide plays Claudius, who not only has snatched the crown but also his brother's queen, Gertrude (Clare Higgins), as a devious politician. His opening speech on becoming king is made sitting next to his new wife in the full glare of television lights like a modern national leader adept at faking sincerity while spewing mendacity.
Designer Vicki Mortimer gives Hytner a claustrophobic paneled set with many halls and windows, so that in every scene, men wearing suits with ear pieces and wrist microphones lurk like Secret Service men bent on no good.
Lighting designer Jon Clark takes advantage of stage mist to obscure characters, and that works especially well when the Ghost of Hamlet's father (James Laurenson) makes his spectral appearance early on. Laurenson gives the late king the tenderness of regret even as he exhorts his son to seek vengeance.
Kinnear inhabits the role of Hamlet rather than wearing it, and his descent into real or contrived madness smacks both of guile and the tug of depression into genuine bemusement. His tight fury over the unmitigated gall of his uncle and wantonness of his mother tip him credibly into the acts that are his undoing.
Other performances are just as revelatory, including Higgins as a sensuous and malleable woman who has opted for a soft landing despite being aware of the corruption that has brought her there. David Calder plays the king's senior minister Polonius as an unctuous chief of staff willing to manipulate not only Hamlet but also his own daughter, Ophelia (Ruth Negga).
When Polonius advises departing son Laertes (Alex Lanipekun) on how to behave in life, Calder utters the line, "To thine own self be true," as if he'd just thought of it, but then weighs it against his own behavior and is not best pleased.
Negga is bold and original as Ophelia, playing the young woman as a trapped free spirit driven to distraction by Hamlet's gambits and the pitiless manipulations of her elders. Hytner makes it clear that Ophelia's death is no suicide and that searing revelation underscores the tragedy that unfolds in a fresh and memorable production.
Venue: National Theatre, runs through Jan. 9; Cast: Rory Kinnear, Patrick Malahide, Clare Higgins, Ruth Negga James Laurenson, David Calder, Alex Lanipekun, Giles Terera; Playwright: William Shakespeare; Director: Nicholas Hytner; Production designer: Vicki Mortimer; Lighting designer: Jon Clark; Sound designer: Paul Groothuis; Music: Alex Baranowski.
This review appeared in The Hollywood Reporter.