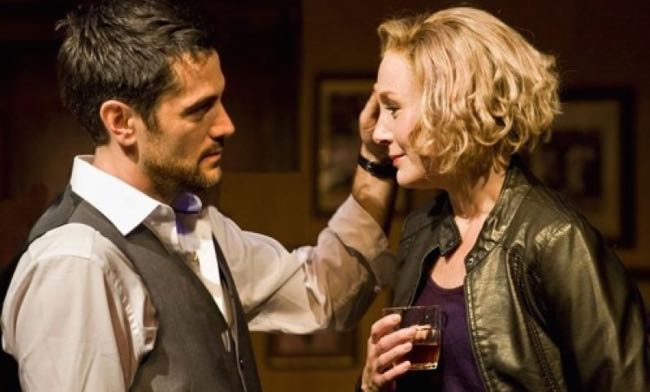 By Ray Bennett
LONDON – The great thing about confidence trickery is that you don't see it coming, and when you're not the target that's what makes Richard Bean's stage version of David Mamet's "House of Games" — having its world premiere at London's Almeida Theatre — such a pleasure.
Bean adapts Mamet's screenplay to a 100-minute master class in the con as celebrity psychiatrist Dr. Margaret Ford (Nancy Carroll) delves into a seedy gambling emporium in Chicago to help out gambling-addicted patient Billy Hahn (Al Weaver), who is in hock for a considerable sum.
There, she encounters club owner Mike (Michael Landes, pictured with Nancy Carroll), who immediately is attracted to the idea of showing a smart and famous professional woman how games work in his house. He says he'll forgive Billy's debt if she'll come to witness a shakedown he's planning with his oddball crew. They include obscenity-spouting but genial George (Trevor Cooper), worrier Joey (Dermot Crowley) and amusing Hell's Angel dimwit Bobby (John Marquez).
Unable to profit from Mamet's filmmaking skill in making points with quick shots and camera angles, director Lindsay Posner uses Peter McKintosh's clever two-story set design. The shrink's office is on the top level, where Billy relates his troubles, with the House of Games at stage level, where most of the action takes place.
Even those who have seen the film will enjoy the tricks and sly twists. Carroll's psychiatrist is all buttoned-down professionalism at first, and she captures the woman's confusion as she finds herself intrigued by Mike's confident games-playing and is attracted to the man. A poised and graceful actress, she uses subtle body movement and expression to show the loosening of her grip on the ability to analyze any situation.
Landes presents credibly different faces to the shrink and his crew, and also the victims of his con, and Cooper and Marquez deal out Mamet's dialogue to smart and amusing effect.
The design also achieves maximum impact from the contrast between the psychiatrist's cold office, where her encounters with boyish but complicated Billy set the scene for what develops, and the deceptive warmth of the poker club, where gullible victims stand to be fleeced without sympathy.
Bean employs Mamet's gamesmanship with entertaining skill, and Posner's staging keeps the action swift. The mood is helped greatly by Django Bates' bluesy original music played on the electric guitar by Christian Bluhme.
Venue: Almeida Theatre, runs through Nov. 6; Cast: Nancy Carroll, Michael Landes, Trevor Cooper, John Marquez, Dermot Crowley, Peter De Jersey, Amanda Drew, Al Weaver; Playwright: Richard Bean; Based on the screenplay by: David Mamet; Story by: David Mamet, Jonathan Katz; Director: Lindsay Posner; Designer: Peter McKintosh; Music: Django Bates; Lighting designer: Paul Pyant.
This review appeared in The Hollywood Reporter.