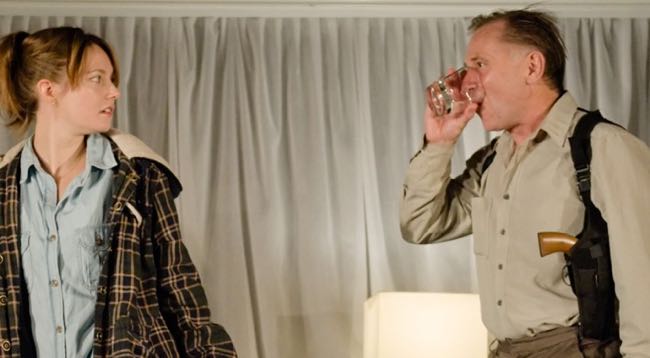 By Ray Bennett
LONDON – In the course of Sarah Kane's pitiless apocalyptic drama "Blasted" it becomes apparent that the title is short for "blasted to hell" as the fate of a couple in a war torn city becomes increasingly nightmarish.
Written in 1995, the bleak and shocking polemic is tough to watch but it is made memorable in Sean Holmes' vivid revival at the Lyric Hammersmith thanks to committed acting and a series of stunning set pieces designed by Paul Wills.
Set in a nameless city being torn apart by rival military factions that could be in the north of England or in the Balkans, an explosion at a hotel room sets in motion a downward spiral into barbarous emptiness.
Danny Webb bares body and soul as Ian, a shabby and sweaty reporter who might also do a little spying and so wears a gun in a his paranoia about being attacked. His visitor is an ex-girlfriend named Cate, played by Lydia Wilson (pictured with Webb), who is spry and quirky with surprising tenacity. Ian is eager to get into Cate into bed and he claims that he is dying of lung cancer.
Their encounter dances between a strange kind of affection and deep loathing as Ian's attempts to force Cate to have sex are spurned but then she indulges him in some oral stimulation only to bite down fiercely enough to draw blood.
The morning finds them waking in bed with Ian coughing his lungs out until a shot of gin settles him down while Cate discovers that she is unable to go to the toilet because she is bruised and bleeding.
While she takes a bath, Ian's worst fears are realized when a large man in a soldier's uniform (Aidan Kelly, brittle and cold-eyed) breaks into his room with an automatic rifle. Starving and brutal, the mercenary senses that there's a woman present but the bathroom is empty and Cate has fled. He turns his attentions to Ian when an explosion blasts the hotel room apart.
It's a darker and even more unpleasant journey after that with the desolate soldier reduced by horrible experience to monotonous savagery, most of it visited upon Ian, who is raped and blinded in the most hideous manner. Playwright Kane, who committed suicide in 1999 aged 28, offers no hope for these blighted characters even when Cate shows up again attempting to care for an abandoned baby. Worse is still to come.
Many will find the play needlessly shocking and it lacks the profundity of Becket or Brecht, but if its one target is to shatter complacency about things that go on in strife-torn regions that we choose to ignore, then it's aim is true.
Venue: Lyric Hammersmith Theatre, runs through Nov. 20; Cast: Danny Webb, Lydia Wilson, Aidan Kelly; Playwright: Sarah Kane; Director: Sean Holmes; Set designer: Paul Wills; Lighting designer: Paule Constable; Sound designer: Christopher Shutt.
This review appeared in The Hollywood Reporter.