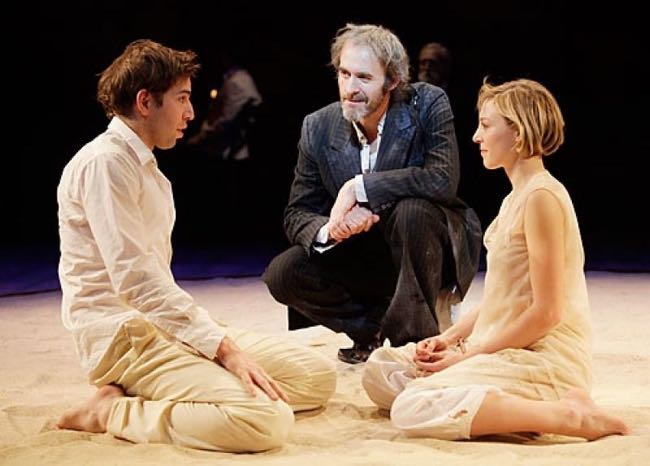 By Ray Bennett
LONDON – Sam Mendes brings his Bridge Project back to the Old Vic for the second year but while the pairing of "As You Like It" and "The Tempest" makes enjoyable theater, the productions lack the vitality and artistic merit of last year's double-bill, "The Cherry Orchard" and "The Winter's Tale."
The plays arrive in London after starting out at the Brooklyn Academy of Music and making a world tour, and while the accomplished cast is too professional to let that show, there is an ebullience and artistic ambition that are somehow missing.
The plays are linked in that they deal with brotherly betrayal, power plays and flights for survival, and the characters in each are under the spell of a master manipulator, Rosalind in "As You Like It" and Prospero in "Tempest."
Performed in repertory, they also play as an almost six-hour marathon on some days with a matinee and an evening show. "As You Like" runs for more than three hours plus an interval but as it is one of Shakespeare's more indulgent plays there are threads that Mendes might well have done without.
As it is, it seems to take an age for the abandoned Rosalind, played by an effervescent Juliet Rylance, to win the hand of her beloved Orlando (Christian Camargo, playing him as more than a little dim). Ron Cephas Jones makes the Duke's wrestler sinewy and scary while Michelle Beck is a saucy delight as Rosalind's best friend Celia. Thomas Sadoski, with droll manner and witty movement, manages to find laughs as the usually tiresome Touchstone.
The biggest laughter, however, comes when Stephen Dillane (centre), playing Jacques as a dispassionate and grouchy observer of life, breaks into song with a voice much like Bob Dylan's followed by a harmonica riff or two. Jacques has the notable speech, "All the world's a stage, and all the men and women merely players," and Dillane almost throws it away as if making it up on the spot. It gains even more power as a result.
Dillane also plays Prospero in "The Tempest" and he approaches the role with a similar nonchalance, retreating almost to the wings as the events he's set in motion take place in a sandy circle at the center of the stage.
Prospero has the big speech, "Our revels now are ended … " and Dillane tackles it with similar detachment although in this play he chooses to speak so softly that it's sometimes difficult to hear him.
Rylance plays Miranda with the same charming energy although she has less to do. Cephas Jones makes Caliban a creature reminiscent of Gollum: considerably taller but with that creature's grovelling menace. Camargo is imposing as an ethereal Ariel and he features in one of Mendes' best moments when he towers above the stage with giant wings. It's a shame there aren't more scenes just as dynamic.
Venue: The Old Vic, London; runs through Aug. 23; Cast: Stephen Dillane, Juliet Rylance, Edward Bennett, Christian Camargo, Thomas Sadoski, Anthony O'Donnell, Ron Cephas Jones, Michelle Beck; Playwright: William Shakespeare; Director: Sam Mendes; Set designer: Tom Piper; Costume designer: Catherine Zuber; Lighting designer: Paul Pyant; Sound designer: Simon Baker for Autograph.