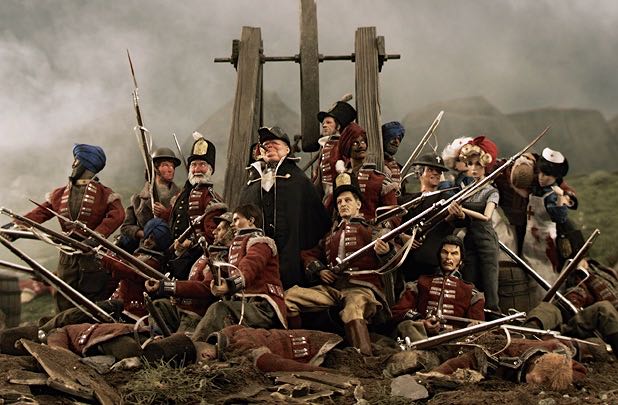 By Ray Bennett
EDINBURGH – Some top UK stars, including Ewan McGregor, Alan Cumming, Tom Wilkinson and Rosamund Pike, lend their voices to the characters in "Jackboots on Whitehall," a puppet animation comedy in the spirit of "Team America" but very British in its humor and cockeyed take on World War II.
Brothers Edward and Rory McHenry wrote and directed the spoof, which sees a group of farmers from Kent save Winston Churchill and take him to a mysterious but impregnable haven known as Scot Land after Germany invades Britain in 1940.
The glassy-eyed puppets – spins on traditional English war film stereotypes with some very camp Nazi leaders – soon take on personalities of their own. The script is filled with puns, one-liners and movie references from "Ice Cold in Alex" to "Zulu" to "Independence Day" that will please audiences with a taste for pythonic or goonish comedy. With insults for everyone and a rousing, if subversive payoff, the production should turn a merry coin.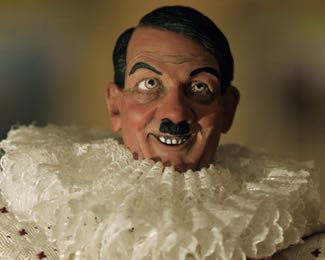 In swift but effective brushstrokes, the McHenrys show Dunkirk as a disaster and the Battle of Britain as a defeat. The Nazis devise a scheme to tunnel beneath the English Channel and send German tanks to crunch along the London Underground's Northern Line to emerge in Trafalgar Square.
Soon, swastikas adorn Buckingham Palace, the Ritz Café becomes the Fritz Café, and an attack is launched on No. 10 Downing Street where Churchill (Timothy Spall) bemoans the loss of the entire British Army save for his trusty Indian Corps.
Meanwhile, in rural Kent, a stalwart lad named Chris (McGregor) curses the fate that left him with hands so large the army says he is unfit for duty. With sweetheart Daisy (Pike), her vicar father (Richard E. Grant), and U.S. flier Billy Fiske (Dominic West) who thinks he's fighting "the Ruskies," he rouses the locals. They fire up an old steam engine to drive to London to rescue Churchill.
While Hitler (Cumming) swans about Buckingham Palace in a Queen Elizabeth I gown plotting with hilariously caricatured Himmler (Richard O'Brien), Goebbels (Tom Wilkinson) and Goering (Richard Griffiths), Churchill leads his valiant band to the safety of Hadrian's Wall. There, Chris meets a blue-faced creature named Braveheart (also Cumming), who has an Australian accent and some lethal weapons, and convinces him to help fight the Nazi horde.
Slick editing keeps the puppets from becoming static and the stars' voices add greatly to the fun with Grant a standout as the foul-mouthed vicar. Supervising sound editor Mark Taylor and his team make all the mechanical noises, and the bangs, crashes and wallops utterly credible, and that sturdy base makes the silliness even more enjoyable.
Venue: Edinburgh International Film Festival; Cast: Ewan McGregor, Rosamund Pike, Richard E. Grant, Timothy Spall, Tom Wilkinson, Alan Cumming, Dominic West; Directors: Edward McHenry, Rory McHenry; Screenwriters: Edward McHenry, Rory McHenry; Director of Photography: Michael Connor; Production designer: David McHenry; Music: Guy Michelmore; Editor: Chris Blunden; Producer: Patrick Scoffin; Production: Entertainment Motion Pictures; Sales: Media 8 Entertainment; Not rated; running time, 78 minutes.
This review appeared in The Hollywood Reporter.