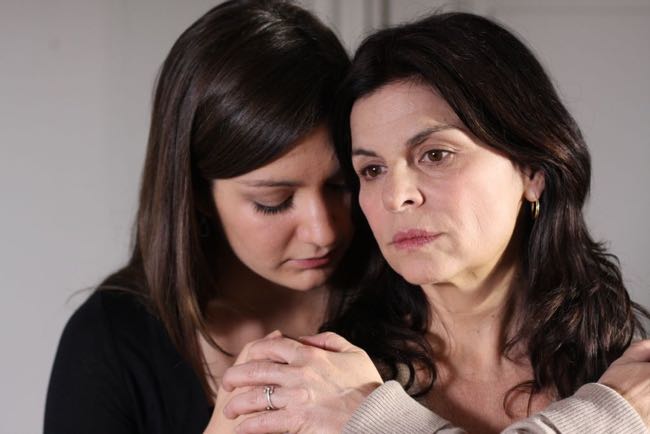 By Ray Bennett
KARLOVY VARY, Czech Republic – The power of nature and art in helping to heal emotional damage in humans is at the heart of Catherine Martin's somber but affecting "Mourning For Anna".
Guylaine Tremblay plays a woman who retreats to her rural family home to grieve for her murdered daughter. The Canadian actress portrays her pain with dignity and fearless candor, allowing composure to dissolve unexpectedly into baleful anguish.
Her performance burnishes a sympathetic depiction of simple mourning that will find appreciative audiences in art houses and on the festival circuit.
The majestic Quebec landscape around Kamouraska, on the south side of the St. Laurence River just north of Maine, also plays a key roll.
When Francoise (Tremblay) flees there to combat overwhelming emotions in solitude the place is buried in its full winter glory. When not wandering the rooms of the memory-filled home she grew up in, she tramps daily through the show and goes so far as to want to become lost in it.
In despair and almost frozen, she is found by a neighbor, Edouard (Francois Papineau), who has also recently returned having become a successful artist. He provides warmth and nourishment as they recollect their time together growing up by the river.
She tells of her failed marriage and adoration of her daughter Anna (Sheila Jaffe, pictured with Tremblay), a passionately talented violinist slain inexplicably by a serial killer. He tells of finding no lasting partner and of becoming disillusioned with the art world despite becoming a success.
Through the winter, he cooks for her and asks her to model for him, and she bares body and soul as she strives for emotional healing. Still, it takes the appearance of Anna and Francoise's mother and grandmother to give that a real chance.
Writer-director Martin leaves it for the audience to decide if they are apparitions or simply in the woman's mind, although there's no attempt at hocus-pocus.
Paced gently with splendid images from cinematographer Michel La Veaux, the film has the rhythm of the winter season as it gives way to the hope of spring.
The opening sequence shows violinist Anna in a fine performance of Beethoven's String Quartet No. 15, Opus 132, and there is more Beethoven throughout the film subtly complemented by Robert Marcel Lepage's understated score.
Venue: Karlovy Vary International Film Festival, Official Competition; Cast: Guylaine Tremblay, Francois Papineau, Sheila Jaffe; Director, writer: Catherine Martin; Director of photography: Michel La Veaux; Production designer: Caroline Alder; Music: Robert Marcel Lepage; Editor: Natalie Lamoureux; Producers: Claude Cartier, Lorraine Dufour Production company: Coop Video de Montreal; Sales: Coop Video de Montreal; Not rated; running time, 87 minutes.
This review appeared in The Hollywood Reporter.