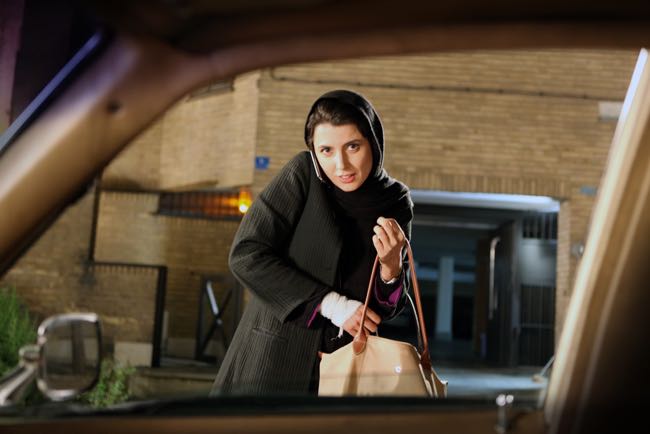 By Ray Bennett
KARLOVY VARY, Czech Republic – Iranian filmmaker Fardin Saheb Zamani has titled his film about a taxi-driver's ordinary encounters in the 10 days before a predicted earthquake in Tehran "There Are Things You Don't Know."
By the time it's over, there will be even more things you don't know, including the point of the movie. Using a mostly static camera and a central character who barely utters a word, it's an impenetrable and dull exercise entirely lacking the curiosity urged by the title phrase.
Fans of the style of Iranian film that plonks down a camera and lets people speak into it might even find their patience exhausted. Prospects beyond the occasional film festival appear slim.
Ali Mosafa plays the taciturn cabbie who drives silently around the city, going home occasionally to feed his cat. His customers appear mostly to be gorgeous women in traditional Iranian clothing who gab into mobile phones or gossip endlessly.
Two stand out, however. One (Mahtab Keramati, pictured) might be an ex-lover and the other (Leila Hatami) has a mysterious routine that requires her to be picked up at precise times and driven across town.
Late in the picture, the cabbie tells one of them that he never knows what to say to people and is advised to say simply the title line. It doesn't seem enough, somehow.
Venue: Karlovy Vary International Film Festival, Official Competition; Cast: Ali Mosafa, Leila Hatami, Mahtab Keramati; Director, writer: Fardin Saheb Zamani; Director of photography: Houman Behmanesh; Production designer: Kamyab Amin Ashayeri; Music: Amir-Ali Vajed Samiel; Editor: Fardin Saheb Zamani; Producer: Manijeh Hekmat; Production company: Bamdad Film; Sales: Iranian Independents; Not rated; running time, 92 minutes.
The review appeared in The Hollywood Reporter.