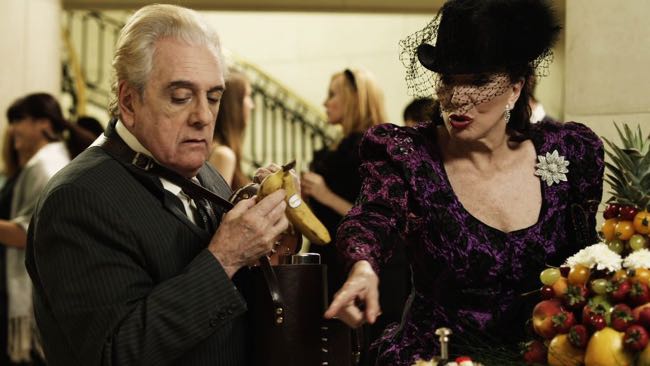 By Ray Bennett
KARLOVY VARY, Czech Republic – Daniel Burman's "Brother and Sister" is a tale of an ageing single man dominated by two overbearing women that could easily have become misogynistic but is instead an absorbing and forgiving character study.
With a big, colorful performance by Graciela Borges as a scheming and in many ways hateful woman who has never married, and a subtle, keenly observed one from Antonio Gasalla (pictured with Borges) as her browbeaten bachelor brother, the film should resonate with grownup audiences no matter how much happier are their own families.
Director Burman and his co-writer Sergio Dubcovsky deliver a story of sacrifice and redemption with growing charm and the film should do well in Spanish-language territories and find a welcome at festivals and in art houses.
Borges' Susana is a real piece of work, a devious and opportunistic Buenos Aires real estate agent whose technique is to keep as many buyers and sellers on the hook for as long as possible.
Her brother Marcos (Gasalla) is not spared from her ruthlessness as she exploits his affection for their bedridden mother to make sure he is the caregiver while she takes care of business.
A goldsmith by trade, Marcos had youthful ambitions to travel and act but with their father dead, he has devoted himself to nursing a parent (Elena Lucena) who is as ungrateful as his sister is manipulative. When he explains that he was unable to phone her because he could not get a signal, she complains, "You need a signal to call your mother?"
When the old woman dies, Susana exploits the situation as her brother weeps by selling the family home and shipping Marcos up river to a town in Uruguay called Villa Laura, where she has a house she owes money on.
While she stays on in Argentina, stealing her neighbor's mail for invitations to fancy parties, Marcos unexpectedly settles in to his new community and in his mid-'60s discovers it's not too late to follow his long-abandoned dreams.
Borges and Gasalla make a memorable team as they gradually reveal the siblings' mutual dependence. There is a rousing finale and a graceful end-credits sequence in which the entire cast joins in a toe-tapping performance of "Puttin' On the Ritz."
Venue: Karlovy Vary International Film Festival, Official Competition; Cast: Graciela Borges, Anthonio Gasalla, Elena Lucena, Osmar Nuñez, Rita Cortese; Director: Daniel Burman.; Screenwriters: Daniel Burman, Sergio Dubcovsky; Director of photography: Hugo Colace; Production designers: Margarita Tambornino Paulina Lopez Meyer; Music: Nico Cota; Editor: Pablo Barbieri; Producer: Diego Dubcobsky; Production company: BD Cine; Sales: BD Cine; Not rated; running time, 105 minutes.
This review appeared in The Hollywood Reporter.