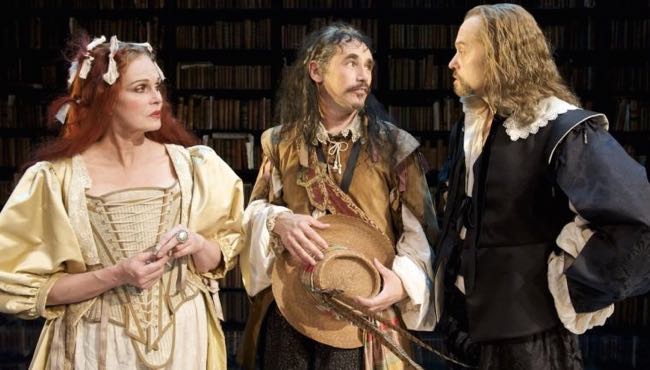 By Ray Bennett
LONDON – "La Bete" is a 1991 American play by David Hirson set in 17th century France and besides being extremely funny it has a lot say about the dumbing down of art and entertainment.
Mark Rylance (pictured centre), 2010 Olivier Award winner for "Jerusalem," has the plum comic role of a vulgar, self-absorbed and outlandish actor and writer named Valere who is foisted upon a serious dramatist named Elomire played with exquisite disdain by former "Frasier" star David Hyde Pierce.
Joanna Lumley contributes all the haughty bemusement of her character in "Absolutely Fabulous" as the Princess in whose court Elomire (anagram for Moliere) operates the official theatrical troupe.
Attracted by the brash simplicity of Valere's street performances, she wants Elomire to combine the crude vagabond clown's accessible productions with his own artistic creations.
Valere makes his entrance spitting undigested food, belching, farting and speaking incessantly. It's an epic speech of around 30 minutes and Rylance does it superbly with such vocal agility, verbal punctuation and pantomime that it leaves the audience weeping with laughter.
Hyde Pierce at first seems doomed to play only in reaction to Rylance, which he does with great finesse, but Elomire comes to the fore in the second half of the play to defend artistic endeavor against the rushing in of fools.
It helps that Hirson has written the entire play in rhyming couplets but director Matthew Warchus makes sure the skilful players glide by the obvious emphasis on key words, making sentences entirely sensible but never overlooking their witty structure.
"La Bete" is widely accessible but it will resonate especially with anyone who has seen a company boss compromise quality and sacrifice principles in pursuit of mass popularity. Television and newspapers come to mind, but there is evidence of such folly everywhere.
The play won awards but was not a commercial success when first presented but the new production sees the original Prince changed to a Princess with re-writing to make up for the lack of an interval through 105 minutes. Funny and insightful, it should prosper in the West End and also on Broadway where it's headed when it finishes the London run.
Venue: Comedy Theatre, runs through Sept. 4; Cast: Mark Rylance, David Hyde Pierce, Joanna Lumley; Playwright: David Hirson; Director: Matthew Warchus; Set designer: Mark Thompson; Lighting designer: Hugh Vanstone; Music: Claire Van Kampen; Sound designer: Simon Baker for Autograph.
This review appeared in The Hollywood Reporter.