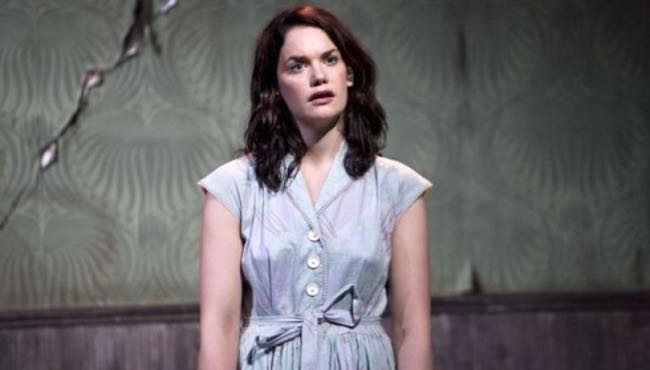 By Ray Bennett
LONDON – A sense of claustrophobia permeates the films of Ingmar Bergman and it's especially strong in his 1961 Oscar-winner "Through a Glass Darkly" so high marks are due to Michael Attenborough who matches that in his stage version now playing at London's Almeida Theatre.
A stifling atmosphere is achieved with a sparse set of three walls that seem to close in on the players as the play goes on. In the role of Karin that Harriet Andersson had in the film, Ruth Wilson (pictured, "Jane Eyre") switches pace credibly from cheerful openness to glazed distraction as a young wife who is either schizophrenic or enraptured by God but gives every impression that she is going slowly mad.
Ian McElhinney brings arrogance and vulnerability to the role of her father, an author more interested in the characters in his novels than his own family. Justin Salinger has the Max Von Sydow part of her doctor husband who knows that she needs him desperately but cannot get past his instinctive response of prescribing sedatives rather than listen to her.
As the teenaged brother whose churning hormones cause personality swings of his own, Dimitri Leonidis appears a bit too grown up but he overcomes that with a persuasively conflicted performance.
Jenny Worton's adaptation of Bergman's screenplay, the only one he allowed to be staged, follows the film although she makes interesting choices with some of the language. She uses the word "descent," for example, to explain Karin's mental illness rather than the more emphatic "disintegration" employed in the film's English subtitles.
Attenborough almost exactly matches several scenes from the movie, most notably the one in which Karin, alone in a strange room, reacts feverishly in the belief that an unearthly spirit has entered her body. Wilson recreates Andersson's movements precisely and achieves a similarly riveting expression of heightened excitement.
All that's lacking is the luminosity of the cinema. Colin Grenfell does a fine job with the production's lighting design and it's not his fault that onstage he cannot possibly match the lighting genius of the film's director of photography, Sven Nykvist.
The power of Bergman's screenplay remains, however, and while not offering any answers, he illuminates the eternal quest of humans yearning to find a reason to believe.
Venue: Almeida Theatre, runs through July 31; Cast: Ruth Wilson, Justin Salinger, Ian McElhinney, Dimitri Leonidas; Playwright: Ingmar Bergman, adapted by Jenny Worton; Director: Michael Attenborough; Set designer: Tom Scutt; Lighting designer: Colin Grenfell; Sound and music: Dan Jones.
This review appeared in The Hollywood Reporter.