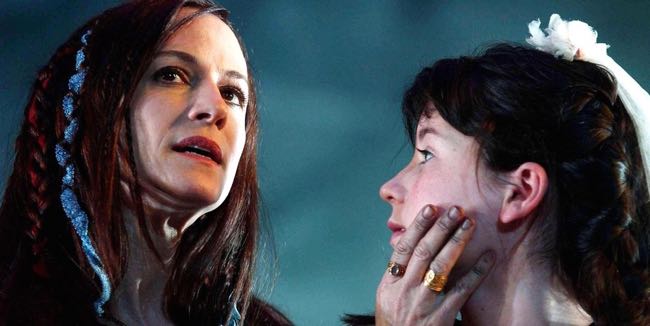 By Ray Bennett
LONDON – Holly Hunter's star power is one of the problems in Dominic Cooke's staging of "By the Bog of Cats," an intense but uneven retelling of "Medea," but it is also its saving grace.
Playwright Marina Carr has set the dark tale of an abandoned woman and her terrible extremes of revenge in the ravaged peat land of central Ireland. Hunter's Hester Swane is a furious mix of outraged earth mother and mystic avenger, a woman whose fiery character draws sustenance from the mysteries and malevolence of the bog of cats.
Left alone by her mother as a child, Hester is also betrayed by the father of her own daughter, the impressively named Carthage Kilbride (Gordon MacDonald), who is about to marry Caroline (Denise Gough, pictured above with Hunter), the meek daughter of a local landowner .
A portent of doom comes early as Hester enters the stage lugging the corpse of a black swan. She soon encounters a blind cat-woman (Brid Brennan, pictured with Hunter below) who recites the ancient incantation that the bearer of such will soon meet a similar fate.
That would cast a pall over anyone's evening but Hester is made of sterner stuff and with wine-swilling panache she determines to confront her cheating partner at his wedding ceremony in order to win him back to her tumbledown shack by the bog.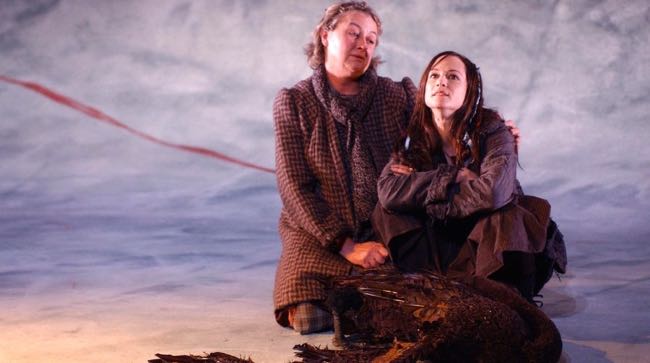 Hildegard Bechtler's spare and evocative sets and Nicky Gillibrand's convincing costumes provide a believable backdrop to the mystical goings on and Hunter makes the most of her peat-stained gypsy sex appeal.
The play, however, takes a very odd detour when Hester goes to the wedding party. Like so many guests at so many weddings, Carr appears drawn to the festive aspect of the occasion, taking every opportunity to get drunk and crack jokes.
The result is a long and hugely entertaining sequence that appears entirely at odds with the remainder of the play. Some fine British and Irish actors are on display and Barbara Brennan, as the bride's mother; Trevor Cooper, as the bride's father; Sorcha Cusack, as a neighbor; and Patrick Waldron, as the tipsy Father Willow, have a rare old time swapping very funny lines at the wedding table.
Hester ambushes the hilarity with her aggrieved righteousness, however, and it's quickly back to the bog with the cat-woman, assorted ghosts and criminal arson. Then it gets really grisly.
It's a mixed success for Hunter, who played the role in San Jose in 2001. Her movie star charisma sometimes distracts attention from the proceedings and her brave Irish accent slips and slides a bit. But her vital stage presence, superb movement and sheer intensity combine to make her performance something to remember.
Venue: Wyndham's Theatre, runs through Feb. 22; Cast: Holly Hunter, Darren Greer, Sorcha Cusack, Barbara Brennan, Brid Brennan, Gordon MacDonald, Denise Gough, Trevor Cooper, Patrick Waldron, Adam Best, Kate Costello, Ellie Flynn-Watterson, Chloe O'Sullivan; Playwright: Marina Carr; Director: Dominic Cooke; Set designer: Nicky Gillibrand; Lighting designer: Jean Kalman; Composer: Gary Yershon; Sound designer: Gareth Fry; Movement director: Liz Ranken; Presented by Sonia Friedman Productions, Waxman Williams Entertainment and Mark Rubinstein.
This review appeared in The Hollywood Reporter.