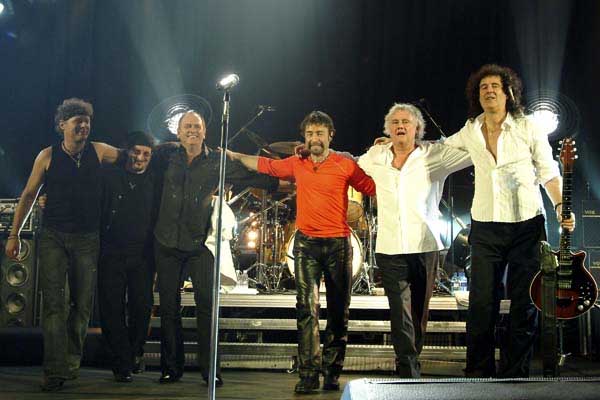 By Ray Bennett
LONDON – The ka-ching of the cash register sounded loudly as glam-rockers Queen kicked off their first major tour since 1991 on March 28 at the Brixton Academy as Paul Rodgers stepped in for their flamboyant frontman, the late Freddie Mercury.
Only fans registered with the Queen website were allowed access to the $100 tickets and the band's two original members onstage, guitarist Brian May and drummer Roger Taylor catered to them with due deference. The audience responded with noisy approval throughout the two-and-a-half hour show.
There's no doubting the band's enduring popularity although Mercury's music was an acquired taste. For those who never acquired it, he had a tendency to sound like an overwrought ingénue from a Gilbert and Sullivan light opera. But he could put on a show.
Rodgers, who found success with the bands Free and Bad Company, has a technically perfect rock 'n' roll voice with all the range and power you could want but it's not at all memorable. His flamboyance extends only to throwing the microphone about.
For the uninitiated, Queen's operatic rock music sounds a bit like 10cc's but without the wit and musicality. As May took centre stage in white shirt and sneakers, Rodgers plowed through songs such as "Break Free" and "Fat Bottom Girls," and "Crazy Little Thing Called Love" to the immense delight of the audience despite their banality.
So pleased was the crowd, in fact, that Rodgers didn't really need to be there as they sang all the songs as one voice, filling the old hall with a really quite splendid chorus. They were silent only when May played a long and expert but quite tedious solo.
For some Queen favorites, such as "Radio Ga Ga", "I'm in Love With My Car", "Can't Get Enough" and "I Want it All", Taylor and May took over the vocal chores. They declined the challenge of performing "Bohemian Rhapsody" entirely and opted instead for a video of Mercury doing the number. The crowd roared its approval.
Rodgers returned for his own big number, "All Right Now", which also went down well and the evening ended with Queen's stadium anthems "We Will Rock You" and "We Are the Champions".
It's not Rodgers' fault but Queen without Mercury is like the Crickets without Buddy Holly, the Doors without Jim Morrison or the Smiths without Morrissey. This tour takes in more than 30 concerts in eight European countries and if every audience is as loyal and demonstrative as the one at the Brixton Academy that won't matter at all.
This review appeared in The Hollywood Reporter.