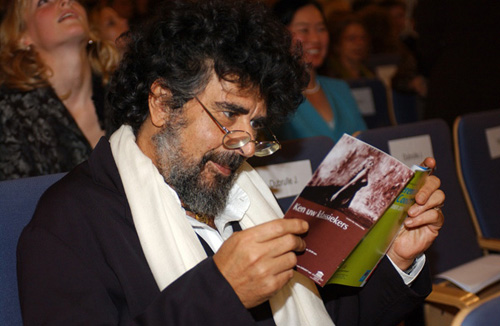 By Ray Bennett
GHENT, Belgium – "Cold Mountain" composer Gabriel Yared (pictured) was the big winner in the 2004 World Soundtrack Awards. He picked up prizes for composer of the year and best soundtrack during ceremonies Saturday night at the 31st Flanders International Film Festival.
Lebanese-born Oscar-winner Yared ("The English Patient") accepted his awards from British composer David Arnold and France's Maurice Jarre, who are serving on the film jury at the festival. In brief remarks in French, Yared praised the Flanders event for its long support of film music. His "Cold Mountain" score won the 2004 British Film Academy music award and was nominated for an Academy Award.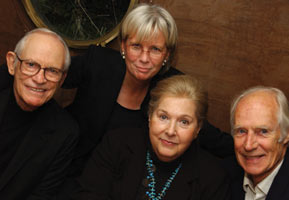 Oscar-winning lyricists Alan and Marilyn Bergman received a lifetime achievement award from British record producer George Martin (pictured right with the Bergmans and the WSA's Marian Ponnet, rear) who said: "It's a very tough task to write a really brilliant song and they have mastered the element of simplicity that moves the heart."
Marilyn Bergman, who is president and chairman of ASCAP, thanked the many composers and filmmakers the pair have collaborated with and named Sydney Pollack, Norman Jewison, Mark Rydell and Barbra Streisand. Alan Bergman provided one of the highlights of the evening when he performed two of their Oscar-winning songs, "Windmills of My Mind" from "The Thomas Crown Affair" and "The Way We Were" from the movie of the same name as scenes from those films screening behind him.
Lyricist Don Black, an Oscar-winner for "Born Free," paid tribute to his friend and frequent collaborator Elmer Bernstein, who died earlier this year. Black said, "Someone like Elmer Bernstein comes along once in a lifetime and we should all be very grateful that he came along in ours." Belgian conductor Dirk Brosse led the Flemish Radio Orchestra in playing themes from Oscar-winner Bernstein's scores to "The Great Escape," "To Kill a Mockingbird," and "The Magnificent Seven."
Two other major film composers who died in 2004 also were saluted with suites featuring David Raksin's "Laura" and Michael Kamen's "Robin Hood: Prince of Thieves." The film music of Jerry Goldsmith, who also died this year, will feature in a tribute concert at the festival on Thursday.
Also at the awards presentation, John Williams's score for "Harry Potter and the Prisoner of Azkaban" won the public choice award and Gustavo Santaollala was named discovery of the year for his score for the film "21 Grams." Sting's "You Will Be My Ain True Love," from "Cold Mountain," was named best song.
ASCAP senior vp Nancy Knutzen accepted on behalf of Williams, and Santaolalla phoned in his thanks from Caracas, Venezuela, where he was performing. He expressed his thanks to "21 Grams" director Alejandro Gonzalez Inarritu and said he would attend next year's Flanders festival. The 2003 winner of the discovery award, Antonio Pinto ("City of God") was on hand to hear a medley of his film music.
Belgian artists Sioen and Wim Mertens also performed and Steven Prengels received the prize for the best young Belgian composer for an original score he wrote for an animated short silent film, "Le Reveil Tam-Tam."
This story appeared in The Hollywood Reporter.