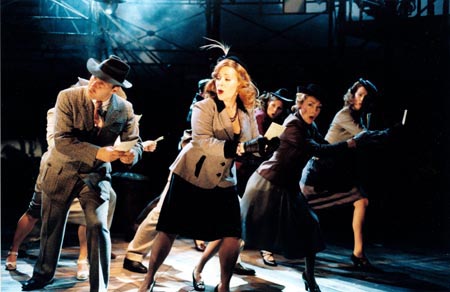 By Ray Bennett
LONDON – Composer John Barry and lyricist Don Black have laboured long and hard to make a musical out of Graham Greene's 1938 crime novel "Brighton Rock," but the challenge has turned out to be beyond them.
Unusually for a musical, the show program contains no list of songs or dance numbers. It's an indication that Barry and Black, and Giles Havergal, who wrote the book for the production, have something other in mind than a traditional musical.
The subject is dark with a central character, Pinkie Brown (Michael Jobson), who is a baby-faced killer running a protection racket in the fading seaside resort of Brighton. After Pinkie orders the death of a small-time journalist, a witness emerges who could put him away.
She's an innocent waitress named Rose (Sophia Ragavelas) so Pinkie cynically seduces and marries her so that as his spouse she cannot testify against him. With a determined woman named Ida (Harriet Thorpe) on his trail, however, and a rival gang leader ruling the roost, Pinkie's desperation leads him to plan the death of Rose.
Havergal has done a good job of condensing Greene's complex novel into manageable length for the show and Lez Brotherson's set evokes the seediness of a resort where the glory has faded and the holidaymakers have a shriek of desperation about them.
But the show is caught between all the imperatives that audiences and especially critics would expect. Clearly, Barry and Black aimed at something like Brecht and Weill in which Barry's Oscar-winning brilliance at creating movie underscores could be brought to bear and the pair's dab hand at melodic songs could be exploited. It works in scene setting and mood, but the songs are defeated by the context.
Black is constrained to use the simple language of the milieu. It would have been absurd if these pseudo-Cockneys had burst into songs with the language of Sondheim or Porter. But the restrictions are defeating and while Rose has two ballads that offer the show a chance of a pop hit, it's as if the songwriters' hearts aren't in it and the songs fall flat.
Worse, there are ensemble performances that feature clunky choreography involving deckchairs by the beach and punters at the racetrack. The bland cheeriness of these numbers is at woeful odds with the drama that infuses the rest of the show.
Part of the problem lies with the source material. Greene knew more about Saigon whorehouses, corrupt colonialists and tinpot Caribbean dictators than he did petty English criminals. The novel succeeds because of Greene's coruscating writing but Pinkie never did convince as a real character either in the book or the film. He was merely a vassal for one of Greene's conundrums about faith and the power of evil.
The 1947 film version was lit up by the sheer screen magnetism of the very young Richard Attenborough but like Dirk Bogarde in "The Blue Lamp" a few years later, he was just a posh actor slumming as a working class character. The films were only shocking in contrast to earlier British middle class crime stories. Hollywood had left them in the dust with Cagney, Bogart and Robinson in the '30s. Not until the late '50s would real working class British voices be heard onscreen.
Michael Attenborough, Richard's son, directs the musical version and he does establish a convincing sense of place. As Pinkie, Michael Jibson does well to suggest a boy born into crime and content to accept his eternal fate as a villain, but the need to break into song every now and then doesn't really help. Harriet Thorpe does a lusty Cockney turn as Ida and Sophia Ragavelas sings sweetly as Rose. But by the time Pinkie takes Rose down to the pier with murder on his mind, her song "You Love Who You Love" has about as much meaning as cotton candy.
Venue: Almeida Theatre, runs through Nov. 13; Music: John Barry; Lyrics: Don Black; Book: Giles Havergal, based on the novel by Graham Greene; Director: Michael Attenborough; Design: Lez Brotherson; Choreography: Karen Bruce; Lighting: Tim Mitchell; Musical director and arrangements: Steven Edis; Sound: John Leonard. Cast: Michael Jobson; Rose: Sophia Ragavelas; Ida Arnold: Harriet Thorpe; Dallow: David Burt; Cubitt: Neil McCaul; Spicer: Paul Bentall; Judy: Corinna Powlesland; Phil Corkery: Gary Milner; Fred Hale: Nicholas Lumley; Mr. Colleoni: Joshua Richards; Presented in association with Bill Kenwright.
This review appeared in The Hollywood Reporter.