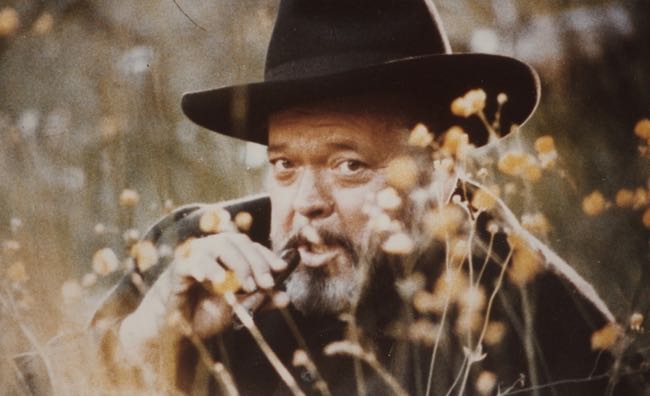 By Ray Bennett
LONDON – I never spoke to Orson Welles – who was born 100 years ago today and will be the subject of a two-month season at the BFI Southbank – but he did respond with a nod and sometimes a smile when I signalled respect with a slight tip of the head as I passed him at lunch.
He was a regular at Ma Maison, the hippest restaurant in Los Angeles in the late 1970s and up to its demise in 1985, the place at 8368 Melrose where Wolfgang Puck first made his name.
On visits to Hollywood to do interviews for TV Guide Canada, I would invite television stars for lunch there knowing it would make their acceptance more likely. It also was made easy because our L.A. correspondent Sue Reilly, who wrote regularly for People Magazine, knew restaurateur Patrick Terrail, who created Ma Maison and turned it into the hub of "Califonian nouvelle" cuisine.
We would eat outside on the colourful astroturf-lined patio and Welles always sat just inside the ground-floor room at the most visible table in the house. The place was awash with famous faces such as Jack Nicholson, Fred Astaire and Marlon Brando. David Janssen ("The Fugitive") used to hold court in the upstairs room. I saw Michael Caine there once wearing a heavy jacket in the sunshine.
I've never been shy about approaching celebrities but Welles was so imposing with the element of sadness that shadowed his final years that I chose not to. I merely indicated respect as I passed and, no doubt grateful that here was someone who did not seek anything more, the great man gave simple but warm acknowledgment.
I fell in love with his films at an early age although not until I was grown up did I appreciate "Citizen Kane' fully. I understood that "The Magnificent Ambersons" was flawed and I could see that "Touch of Evil" and "The Lady From ShangHai" were special.
Having fallen in love with Shakespeare's "Henry IV Part 1" at school, I thought his Falstaff in "Chimes at Midnight" was wonderful. He made it in 1965 and I saw it at a screening in London in 1967. Rights issues have clouded its subsequent showings but the BFI will screen a 119 minute version in August as part of its Orson Welles season, The Great Disruptor, which runs from July 1 to Aug. 31.
It will include many rare and restored films made by or featuring Welles including a new documentary titled "Magician: The Astonishing Life and Work of Orson Welles", which I will review closer to its UK-wide release date on July 3. For more details about the BFI season, see here