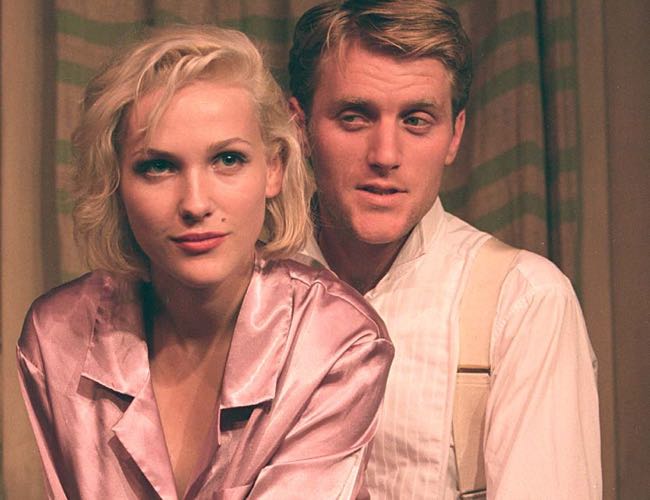 By Ray Bennett
LONDON – One night in 1955, a handsome stranger in a tuxedo delivers a bottle of champagne on ice to a beautiful woman alone in a seedy motel room. It's obvious who she is, all blonde hair, curvaceous body, and wistful voice. She's Marilyn Monroe, but who is he, courteous and charming and unforthcoming?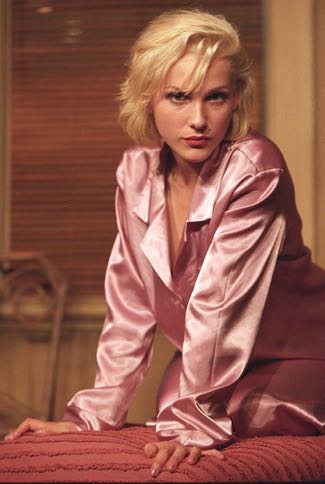 The identity of the stranger is the final kicker in Steve Black's slight but absorbing one-act play that relates most of the known facts about Monroe's life up to the point she was having marital problems with Joe DiMaggio. Mostly it's a monologue, with Marilyn relating the sad details of her childhood, her mostly tawdry treatment by men and what turned out to be thwarted ambitions.
What makes the time pass engagingly is the astonishing ability of Sally Day to look and sound like Monroe. The actress isn't by any means a dead ringer for the movie star except for crucial moments when either still or in motion the likeness is uncanny.
In Black's scenario, Monroe has retreated from the clamor of her growing fame, her marriage to baseball hero DiMaggio withering in the glare of relentless attention. That famous shot from "The Seven Year Itch" with her skirt blowing up over the New York subway vent has blown Smokin' Joe's cool and the bombshell already has a hankering for someone a little older and literary, Arthur Miller, say.
Some of Black's chronology is out of whack, especially considering who the stranger turns out to be, but Andrew Crabb does a good job of making him solicitous toward the wounded bird that Monroe had become.
Not many actresses have been able to match Monroe's ineffable screen presence but Day, sympathetic and sexy, comes very close.
Venue: The King's Head Theatre, runs through Oct. 17; Cast: Sally Day, Andrew Crabb, Playwright: Steve Black; Director and designer: Jonathan Hyde; Producer: Joanna Hole; Lighting: Dan Crawford; Presented by i.e. Theatre & F.I.T. in association with the King's Head Theatre.
This review appeared in The Hollywood Reporter.