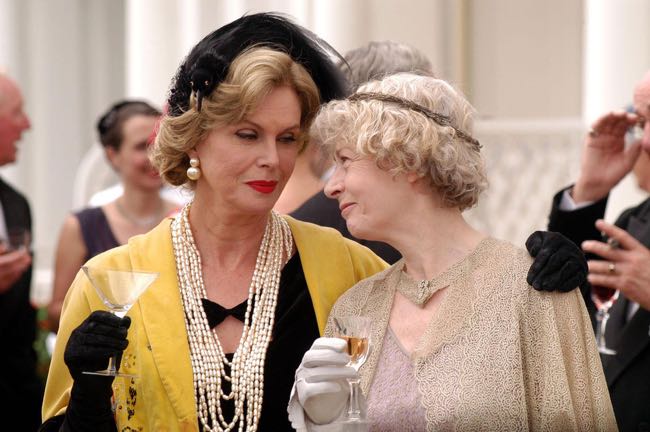 By Ray Bennett
LONDON – One of the great legacies of the Agatha Christie mystery canon is the rich vein of weird and wonderful characters she left for Britain's vast array of character actors to mine. The new film series featuring amateur sleuth Miss Marple is a perfect example.
Christie's now quaint stories also benefit from lively scripting, crisp direction and evocative design. The first of the series, "The Body in the Library" has these in large measure with director Andy Wilson and cinematographer Martin Fuhrer exploiting Jeff Tessler's period design to please the eye while Kevin Elyot's slyly witty dialogue delights the ear.
The shrewd and determined spinster of this parish that is Miss Marple is portrayed with steely warmth by Geraldine McEwan, whose ability to be unpleasantly stern is smartly tempered into an appealing eccentricity.
The body found at the opening of the first film is that of a young blond woman who dances at the Hotel Majestic and is therefore of dubious character while the library is in the lavish country pile owned by the formerly unblemished Colonel Arthur Bantry (James Fox).
The colonel's wife Dolly, played with flawless exuberance by Joanna Lumley (pictured with McEwan), calls on her friend Miss Marple to investigate, being convinced that where murder is concerned her husband is not that type of man. "He's sometimes silly about pretty girls, but why not? I have the garden," Dolly explains.
Dolly briskly ignores a hapless bobby who tries to keep the two from entering the library to view the body. "Nobody's allowed inside," he states firmly. 'Oh, nonsense," says Dolly as she strides past.
Another Majestic dancer, Josie (Mary Stockley) identifies the dead blond but it transpires that the elderly, wheelchair bound Conway Jefferson (Ian Richardson) was the one who notified the police. It appears he doted on the young dancer and changed his will in her favor, much to the annoyance of daughter-in-law Adelaide (Tara Fitzgerald) and son-in-law Mark (Jamie Theakston).
Meanwhile, the local chief constable, an often apoplectic Simon Callow, with the aid of a sardonic detective inspector (Jack Davenport) trek through assorted witnesses and possible suspects including an absent-minded Majestic habitue (David Walliams), a brash would-be filmmaker (Ben Blake) and a Latino chappie who's a bit of a gigolo (Adam Garcia).
Miss Marple, of course, sees through the lot of them and McEwan has fun with the inevitable revelations that have baffled the police and surprise everyone.
There are four films in the new "Marple" series, coproduced by WGBH Boston, and if they're all as good as the first one then Christie fans have a treat in store.
Airs: UK: Dec. 12 ITV1; Cast: Geraldine McEwan, Joanna Lumley, Simon Callo, Ian Richardson, Tara Fitzgerald, Jamie Theakston, Jack Harper, Adam Garcia, David Walliams, Ben Miller, Mary Stockley, Emma Williams, Florence Hoath, James Fox; Director: Andy Wilson; Screenplay: Kevin Elyot; Director of photography: Martin Fuhrer; Production designer: Jeff Tessler; Editor: William Diver; Composer: Dominik Scherer; Producer: Matthew Read; Executive producers: Michael Buck, Damien Timmer, Phil Clymer, Rebecca Eaton; Production: WGBH, Chorion, Granada production for ITV1.
This review appeared in The Hollywood Reporter.