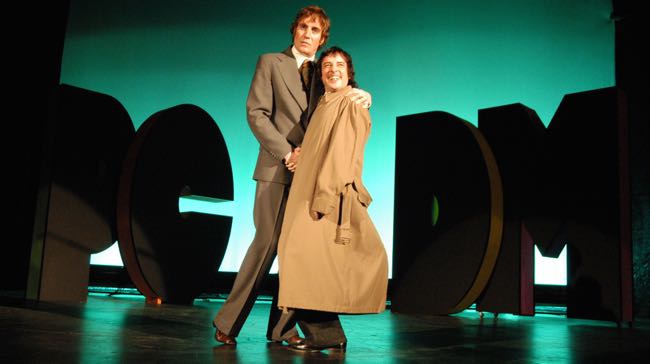 By Ray Bennett
LONDON – In a season of musical and comedy movie biographies, this look at the lives of Peter Cook and Dudley Moore is by far the most disappointing.
It was surely a bridge too far for the accomplished playwright Terry Johnson ("Hitchcock Blond"), whose writing and direction here capture none of the magic of the comic duo who were at the peak of Britain's sixties comic revival.
Those familiar with the hilariously sardonic Cook, described by humorist Stephen Fry as the funniest man who ever drew breath, and brilliant musician and clown Moore, who became a Hollywood sex symbol, will not recognize them here.
Anyone who wonders why the pair were idolized or why their sketches still convulse those fortunate to have seen them in their prime in the stage shows "Beyond the Fringe" and "Good Evening" or on their BBC TV show "Not Only … But Also" will find no answers.
Rhys Ifans ("Notting Hill") and stage and television actor Aidan McArdle occasionally resemble salt Peter and cuddly Dudley but neither can master the lunatic body language and inspired vocal delivery of the originals.
Other characterisations are similarly off-base including pale imitations of Eleanor Bron, Blake Edwards and David Frost. Alan Cox suggests a diffident Alan Bennett, the shy Yorkshireman who was part of the "Fringe" troupe and Jonathan Aris is suitably intense as the over-articulate fourth member, Dr. Jonathan Miller.
It's hardly the actors' fault that they cannot impersonate successfully some of the funniest comedy performers Britain has ever produced. The structure of the film lets them down with a clumsy framework that has Cook and Moore in their working class Pete & Dud characters alone in a screening room as they watch a film about the lives of their alter egos.
The film establishes that their relationship was complicated from the start when they first met to create "Beyond the Fringe" for the Edinburgh Film Festival. Cook and Miller were middle class public schoolboys while Bennett and Moore were working class grammar schoolboys. The division in those days was marked although they had all gone on to Oxford or Cambridge.
Cook was a precociously successful comedy writer with a superior air and withering command of a uniquely prodigious wit. Moore was short with a clubfoot and an inferiority complex almost as big as his appetite for beautiful women.
Johnson covers the ground between their meeting and having West End and television success, and going on to movies, with little respect for the actual chronology. Gradually we meet their respective succession of wives and see the eventual fractures in what was a connection between two distinct creative personalities that meshed into one hugely inspired whole.
Moore is depicted cruelly as a man desperate for film success and seduced easily by the California good life. But Cook comes off worse as he is portrayed as a drunken, unfulfilled wastrel who comes to a bitter end. In truth, he was a man genially content with the fact that his biggest successes, unmatched by his peers, came early in his life.
The only smile caused by this film is to imagine what Cook would have said about it.
Airs: UK Dec. 30 Channel 4; Cast: Rhys Ifans, Aidan McArdle, Jodie Rimmer, Daphne Cheung, Camilla Power, Alan Cox, Jonathan Aris, Joanna Morrison, Josephine Davison, Richard Durden, Robin Soans, Alistair Browning, Tandi Wright, Brett O'Gorman, David Sterne; Writer, director: Terry Johnson; Director of photography: David Odd; Production designer: Michael Ralph; Editor: Martin Sharpe; Composer: Colin Towns. Producer: Alison Jackson; Executive producers: George Faber, Charles Pattinson; Production: Company Pictures; Not rated, running time, 120 minutes.
This review appeared in The Hollywood Reporter.