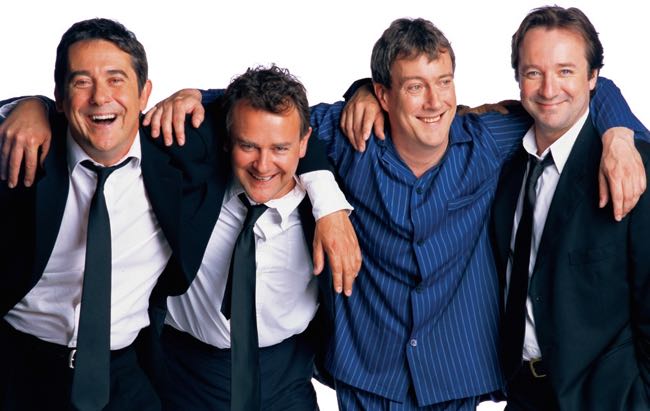 By Ray Bennett
LONDON – The first play that Kevin Spacey has chosen to direct in his first season as artistic director of the Old Vic Theatre Company is curiously flat and uninvolving.
Dutch playwright Maria Goos' story of four 40-ish men and the strains put on their friendship by their often-wayward choices in life is both unconvincing and quite dull.
Spacey's direction doesn't help as it leans heavily toward the lame comedy of male bravado and fails to establish any depth of emotion that might make the dark ending persuasive.
The setting is a fashionably modern apartment where Pieter (Stephen Tompkinson), a gay municipal civil servant, is arguing with his boss's boss over a demand that he return what he refers to as the birthday gifts he has received over the previous 21 years.
These include eight paintings that he appropriated from storage at the local council office when they were regarded as worthless but since have come to be extremely valuable. His three closest friends, all heterosexuals, get involved in a problem that is made worse by the fact that he has already sold four of the paintings.
His mates also have their own problems. Jan (Hugh Bonneville) is an ambitious politician who expects to hear any day that he has been made a cabinet minister. But his wife has found out about his girlfriends and now he's staying with Pieter. Tom (Adrian Lukis) is a lawyer whose over-indulgence in cocaine has led him to a stint in rehabilitation that doesn't appear to have worked. And Maarten (Neil Pearson) is a smug playwright who is impotent except when it comes to Jan's 18-year-old daughter.
The four men contrive to help Pieter out of his difficulty while Jan awaits his big news and frets over his failed marriage, Tom rushes about scoring more coke and Maarten anguishes over the first night of his new play and how he will tell Jan that his daughter appears naked in it.
All of this is revealed amidst what is supposed to be universal male camaraderie and banter, with references to a youthful mantra involving the shout of "Cloaca," which has something to do with sewers. Nothing is made of Pieter's homosexuality, which is probably a good thing in the circumstances, but it makes him, like the others, merely a type rather than a character.
There's a very strained sequence in which Jan is gifted with a wan-looking hooker to celebrate his 43rd birthday and the joke is that, unable to perform, he goes into tearful breast beating about his wife and kids but the woman does not speak English.
The actors are all fully competent but there's little they can do to enliven what is presumably meant to be a caution about the dangers of hubris and ignoring loyalty but falls lamentably short.
Venue: The Old Vic, runs through Dec. 11; Cast, Stephen Tompkinson, Hugh Bonneville, Adrian Lukis, Neil Pearson, Ingeborga Dapkunaite; Playwright: Maria Goos; Director: Kevin Spacey; Producer: David Liddiment; Executive producer: Colin Ingram; Designer: Robert Jones; Lighting: Mark Henderson; Sound: Fergus O'Hare; Presented by the Old Vic Theatre Company.
This review appeared in The Hollywood Reporter.