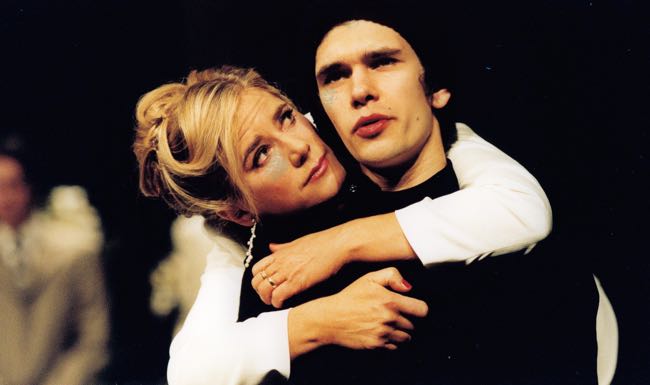 By Ray Bennett
LONDON – Trevor Nunn's breathtaking new production of "Hamlet" sees the Danish prince as James Dean in "East of Eden," an immature and deeply torn young man whose love for his father and conflicted feelings for his mother drive him to extremes.
For his first staging of the play since 1970, Nunn has chosen a 23-year-old unknown named Ben Whishaw, who catapults instantly to fame with his unforgettable performance. As the young rebel with a cause, Whishaw actually looks more like the early Anthony Perkins, knife thin and gangly, his fear striking out from jangling neuroses and hormones, but who also possesses great calm with beseeching eyes and a killer smile.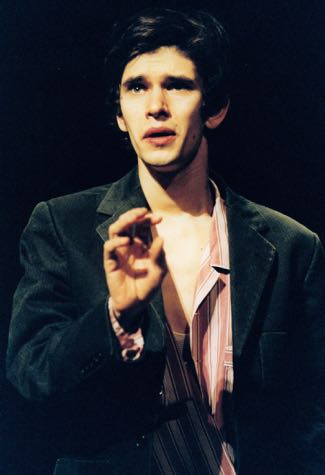 As artistic director of the Royal Shakespeare Company and later director of the National Theatre, Nunn invigorated the Shakespeare canon and reinvented the musical with hits such as "Cats," "Les Miserables," "Oklahoma" and "Anything Goes." His fresh take on "Hamlet," with many of the youthful cast making their West End debuts, makes a luminous addition to those formidable accomplishments.
When first the ghost of Hamlet's late father is seen, Elsinore appears to be a vast and daunting place in an indeterminate age. John Gunter's design offers tall walls and high-climbing steps, and Paul Pyant's lighting throws huge and moody shadows. But that soon gives way to the bright and creamy court of the newly crowned Claudius (Tom Mannion) and his fresh bride, Gertrude (Imogen Stubbs, pictured top with Whishaw), widow of his brother, the deceased king.
This is a palace in modern dress with Champagne and tennis, Versace and rock'n'roll, secret service agents and Uzis. The language, too, feels new, spoken conversationally rather than declaimed, gaining enormously in clarity and losing nothing of Shakespeare's gorgeous poetry and marvelous wit.
Nunn has cut the play so that it runs for 3 hours and 19 minutes with a 20-minute interval. He also, crucially, has placed Hamlet's "To be or not to be" monologue 45 minutes into the play at a much more fitting moment than its typical place in the third act. Whishaw makes the scene his own and renders the contemplation of suicide, pills and Evian water at hand, with a teenager's confusion over the romance and grisly reality of dying young.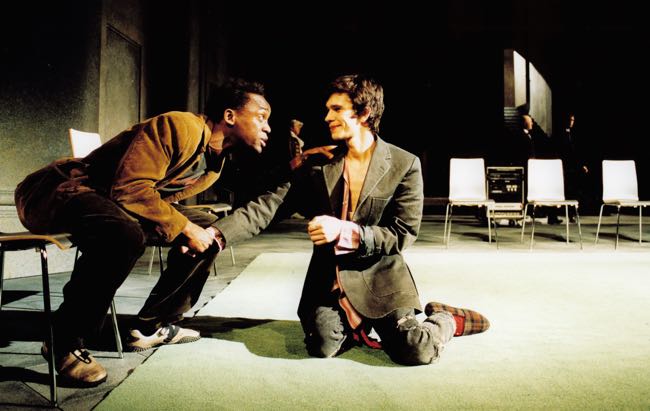 Younger still, Samantha Whittaker defines Ophelia as a skittish teenager thrown into emotional chaos by the death of her father, Polonius (Nicholas Jones) and the escalating turmoil around her. Kevin Wathen and Edward Hughes play Rosencrantz and Guildenstern as schoolboy innocents, pawns of Claudius and his minions, while Jotham Annan (pictured with Whishaw above) is stalwart as the prince's loyal friend, Horatio.
Rory Kinnear makes Laertes a vigorously vengeful son, howling in his own grief over Polonius' death and willing to be the instrument of Claudius' murderous plans for Hamlet.
Mannion and Stubbs bring glamour and guile to their roles as some kind of Kennedys in an all too brief Camelot, and Jones hides his chief of staff's cunning behind jovial bluster. James Simmons is strong in three roles, including a shrewd first player, as so is Sidney Livingstone, especially as the canny gravedigger.
Maggie Lunn's casting is splendid throughout but Nunn must take the credit for melding them into a production that makes "Hamlet" fresh and relevant and gives the world a brand new star in Whishaw.
Venue: The Old Vic, runs through July 31; Cast: Ben Whishaw; Tom Mannion; Imogen Stubbs; Nicholas Jones; Rory Kinnear; Samantha Whittaker; Jotham Annan; Kevin Wathen; Edward Hughes; Playwright: William Shakespeare; Director: Trevor Nunn; Design: John Gunter; Lighting: Paul Bryant; Composer: Steven Edis; Sound: Fergus O'Hare; Associate Costume Designer: Mark Bouman; Fight director: Malcolm Ranson; Movement: Kate Flatt; Casting: Maggie Lunn; Voice: Patsy Rodenburg; Presented by Old Vic Productions, Ron Kastner and Background.
This review appeared in The Hollywood Reporter.