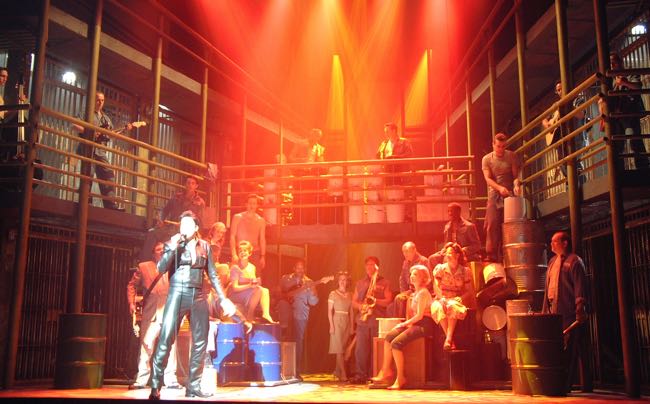 By Ray Bennett
LONDON – Elvis Presley was crowned the King of Rock 'n' Roll but few would argue that Little Richard did not have a more legitimate claim to the throne. The point is illustrated, more by accident than design, in the new British production, "Jailhouse Rock The Musical."
The show is based loosely on the 1957 Presley movie. Loosely, in the sense that they've kept the plot but failed to secure rights to the Lieber and Stoller songs, including the hit title number. So the warden does throw a party at the county jail and the prison band is there but it doesn't wail to quite the same effect.
Mario Kombou is Elvis as Vince Everett, the quick-tempered, curly-lipped, pelvis-swiveling hunk who is sent to the Big House for manslaughter and is there taken under the wing of an old-time country singer named Hawk Houghton (Roger Alborough). Hawk is a long-time con who is not the teeniest bit attracted to Vince,. Don't even go there. He just wants to be his pal and teach him to play guitar. And collect 50% of his earnings when he's released and becomes a big star.
That's exactly what Vince becomes on the outside although it takes the love of a good, albeit rich, woman (Lisa Peace) and fights with cheating record label executives before he makes it. But what will happen when Hawk gets out and demands his cut, and will Vince remember his promise to help his good black jailbird buddy Quickly Robinson (Gilz Terera) obtain parole?
You might have thought that once the producers realized they weren't going to get "Jailhouse Rock" and other great Presley songs from the film such as "Treat Me Nice", "Don't Leave Me Now" and "Young and Beautiful", they might have gone back to the drawing board. Presley made 32 pictures in a 13-year Hollywood career and surely "Roustabout", "Clambake" and "Harum Scarum" are fine titles to hang an Elvis stage musical on.
But they probably had the sets by then and double-decker jail cells form the backdrop throughout so that Vince's connection to the downtrodden black inmates can be underscored with slide guitar and harmonica blues riffs and a little bit of gospel thrown in.
The result is a strange mishmash that devolves into a muddy-sounding rock concert as the plotlines are all resolved and it becomes an Elvis impersonator show without the fancy costumes. On the plus side, there are a couple of well-staged prison numbers involving "Stomp"-like percussion created by the chain gang chorus.
The only early Presley songs included are "Blue Suede Shoes", "Good Rockin' Tonight", "A Fool Such as I" and "Are You Lonesome Tonight?". Curiously, but pleasingly, two of the big showpieces are built around songs associated with country star Charlie Rich – "Lonely Weekends" and "Big Boss Man."
A fine group of singers and musicians has been assembled to not only pound out the rock stuff but also perform unlikely but entertaining versions of left-field songs such as "Pretty Little Angel Eyes", "Winter Wonderland" and "Big Rock Candy Mountain."
Of course, it all comes down to the key performers. Roger Alborough is a far cry from the film's indispensable Mickey Shaughnessy, looking a lot like Bill Haley without the kiss curl. Lisa Peace is given precious little to work with as Vince's love interest. In the Presley role, Mario Kombou has all the charisma of Fabian although he can carry a delicate tune close to the Presley manner and grows in confidence once he's belting out the big Elvis in Vegas numbers such as "Burnin' Love" and "Suspicious Minds."
The star of the show, however, is Giles Terera, who tops a series of crowd-pleasing cameos throughout with a genuine, show-stopping blast of Little Richard's "Tutti Frutti". Long live the King!
Venue: Piccadilly Theatre, runs through Sept. 18; Cast: Mario Kombou, Roger Alborough, Lisa Peace, Giles Terera, Dominic Colchester, Melanie Marcus, Mark Roper, Annie Wensak, Gareth Williams; Writers: Rob Bettinson & Alan Janes; Director: Rob Bettinson; Producers: Alan Janes, Rene Sheridan; Co-producers: Jonathan Alver, Stephen Dee; Designer: Adrian Rees; Musical supervisor: Davi Mackay; Choreographer: Drew Anthony; Lighting designer: Alistair Grant; Sound designer: Simon Baker. Presented by Theatre Partners, the Jailhouse Company and Volcanic Island by arrangement with the Theatre Royal Plymouth.
This review appeared in The Hollywood Reporter.