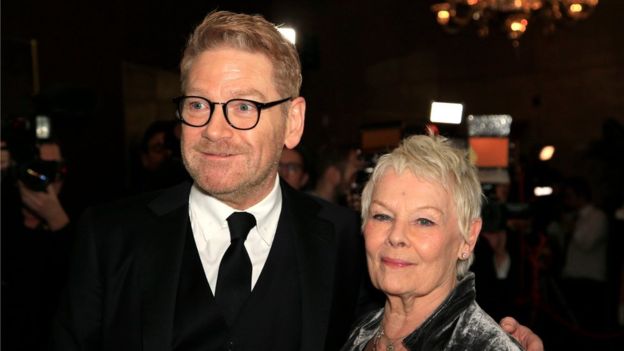 By Ray Bennett
LONDON  – There was only one standing ovation at the London Critics' Circle Film Awards Sunday night and it was for someone who was not there: Alan Rickman, who died on January 14.
The audience responded immediately and enthusiastically when Kate Winslet, as she accepted the award for best supporting actress for "Steve Jobs", said tearfully that it seemed odd to celebrate in a week that had seen the loss of her co-star and director. The applause was loud and sustained.
Winslet (pictured below) promised that she would not cast a pall over the evening and recalled a moment on the set of 1995 period film "Sense and Sensibility" when she had an underwear malfunction. She said she whispered to co-star Emma Thompson, "My knickers have gone up my arse-crack." The actress explained that she'd been in costume with a tight corset and it took a lot of wriggling and pulling to solve her dilemma.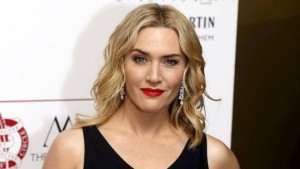 She said that Rickman, who played Colonel Brandon in the film, noticed her struggle and observed wryly, "The feminine mystique strikes again."
Mark Rylance, who was named best supporting actor at the awards, had begun the evening in a video he sent from a snowy location in the United States. Dressed in yellow fisherman's garb, he sat with a stick and piece of string. He reminded the audience that he had spent his youth in Wisconsin and liked to fish. The camera pulled back to reveal a small plastic fish on the end of a line. "I've caught a whopper," he said, as he offered thanks for his award.
"He's a very odd man," said his "Wolf Hall" co-star Thomas Brodie-Sangster, who was there to pick up the prize. He also praised Rylance as a generous and truthful man who is "one of the greatest actors alive, or has ever lived".
Maisie Williams ("Game of Thrones") was there to accept her award as young performer for "The Falling" but Saoirse Ronan and Tom Hardy, who won the awards for British/Irish actress and actor, sent notes of thanks. George Miller sent videos of thanks for his award as best director and for film of the year, "Mad Max: Fury Road".
Charlotte Rampling was named actress of the year for "45 Years", which won the Attenborough Award for best British or Irish film of the year. Director Andrew Haigh accepted both awards and read a note from Rampling in which she offered her thanks but suggested that such competitions are "a strangely cruel sport. How can actors be pitted against one another?"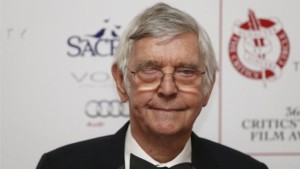 Tom Courtenay (pictured left), who was on hand to accept his prize for actor of the year, praised his "45 Years" co-star and said, "The main difference between men and women as they mature is that women like to keep their age a secret and men like to tell their age and how old they're going to be. I'm going to be 79 [Feb. 25]. Sharing the stage with the glamorous Parisienne … that's pretty good."
The highlight of the evening came when Judi Dench presented Kenneth Branagh (pictured top) with the Dilys Powell Award for Excellence in Film.  The venerable actress, whose run of "The Winter's Tale" with Branagh at the Garrick Theatre ended on the weekend, recalled another time when she was on stage with the actor/director.
She was playing the mother in "Coriolanus", she said, and two lines in she fell and twisted her ankle. She asked if there was a doctor in the house and there was. He said it was a sprain but he fixed it and she carried on. Dench said, "When you're stoic in the theatre, the audience love it. At the end, I had the best applause ever. Ken came over and said, 'Get off the stage you limping bitch."
Accepting his award, Branagh spoke fondly of an encounter with the late film critic Dilys Powell even though she had not liked his first film. He also thanked long-time Daily Telegraph theatre critic Charles Spencer for the early boost he gave to his career. He said he'd been thinking a lot about critics since he learned of the Critics' Circle award.
He said, "Powell taught me that you can talk and disagree and not take it personally. I'm grateful for the attention. It's important that we continue to have professional critics who deliver practised and considered work."
The awards were presented in a ceremony at the May Fair Hotel in London. Here's a complete list of the winners:
Short Film: Benjamin Cleary's "Stutterer"
Supporting Actor: Mark Rylance in "Bridge of Spies"
Supporting Actress: Kate Winslet in "Steve Jobs"
Technical Achievement Award: Edward Lachman, cinematographer, "Carol"
Screenwriter: Josh Singer, Tom McCarthy, "Spotlight"
Documentary: Asif Kapadia's "Amy"
The Philip French Award for Breakthrough British/Irish Filmmaker: John Maclean, director, "Slow West"
Young Performer: Maisie Williams, "The Falling"
British/Irish Actress: Saoirse Ronan
British/Irish Actor: Tom Hardy
The Attenborough Award for Best British/Irish Film: "45 Years"
Actress of the Year: Charlotte Rampling, "45 Years"
Actor of the Year: Tom Courtenay, "45 Years"
Director of the Year: George Miller, "Mad Max: Fury Road"
Foreign-language Film: Joshua Oppenheimer's documentary, "The Look of Silence"
Film of the Year: "Mad Max: Fury Road"
The Dilys Powell Award for Excellence in Film: Kenneth Branagh