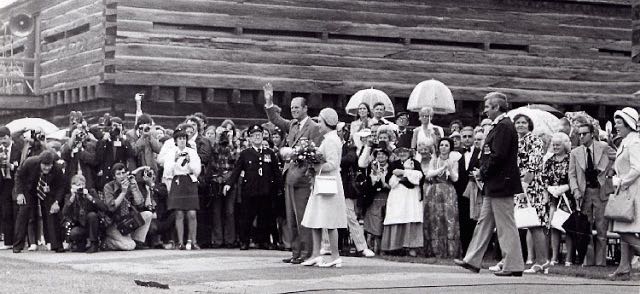 By Ray Bennett
LONDON – I went to London to see the Queen and met the Happy Hooker, who led me astray.
In June of 1973, Queen Elizabeth II, who turns 90 today, made a tour of Canada and The Windsor Star newspaper sent me to cover it at the nearest city in Southern Ontario where she would be seen – London.
The Queen, along with the Duke of Edinburgh, was in the rain-soaked city for precisely 140 minutes to meet local dignitaries, receive a bouquet of flowers and a gift from the city, inspect an honour guard, sign the guest book, lunch with 500 local bigwigs, stroll through a roped-off section of Victoria Park (where the sun came out) and wave goodbye.
Xaviera Hollander (pictured below), the flamboyant and glamorous former call-girl and madam whose memoir titled "The Happy Hooker: My Own Story" had sold 4.5 million copies according to the New York Times, was on a lecture tour to speak about her life and sell her book.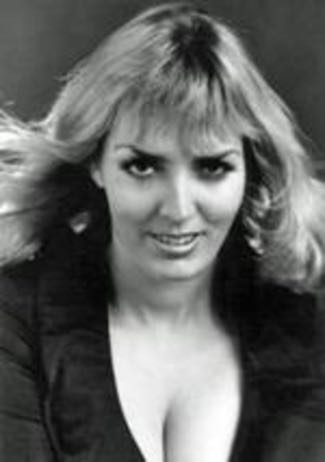 After the Star photographer (the wonderful Cec Southward) and I finished our coverage of the Queen, we repaired to the London City Press Club, as you would, for a libation or two before we drove back to Windsor. That's where we ran into the Happy Hooker and I got distracted.
Many other out-of-town reporters had the same idea. The Press Club was extra crowded when Xaviera Hollander strolled in and she obviously expected that. She lost no time becoming the centre of attention not least for the physical affection she displayed toward an attractive young woman she described as her girlfriend.
Pretty soon, it became a press conference as Hollander was happy to take questions and give provocative answers. It was hugely entertaining but with a 120-mile drive ahead of us, Cec and I could stay for only a part of it. We went to the parking garage talking about her and I helped him load his photographic equipment into the trunk. Without thinking, I placed my notebooks on the roof of the car.
We drove off, and I forgot about the notebooks.
Back in the newsroom of The Windsor Star, I realised with horror what I had done. I phoned a fellow reporter who had also covered the Queen's visit, a good guy named Dave Agnew who was doing a stint with Canadian Press. Generously, he reminded me of some things I needed for my news story and then I had to write a colour piece to go with it. He couldn't help me with that.
There was only one thing for it: I had to do what reporters call a memory dump. I wrote down everything I could recall of that day. Next morning, the editors displayed the piece prominently on Page 1. Oddly, I recall most of it even now.
Here she comes!… There she goes!… Oh well …"
By Ray Bennett
LONDON – A visit by the Queen is part planning but mostly memories:
A single bagpiper rehearsing tirelessly at London's armouries with the Queen hours away; the rumpled gentleman who had obviously spent the night in Victoria Park on a bench, where he still sat deep in thought, who when asked about the royal visitor shook his head and said, "I was unaware the lady was on her way" …
The little girl named Allison who found herself in wonderland when she was selected to present a bouquet to the monarch after she had written to her in her tidy Grade 3 handwriting to invite the Queen to tea – she mentioned her brother and sisters and gave their ages and a dog named Charlie who was four and a rabbit named Snowball and a hamster named Christa but she was afraid she didn't know how old they were. She signed off, "Well, I better go now, so long Allison" …
Two ladies with their daily bet on what colour dress the Queen will wear; grown men sneaking into the hall after the Queen's luncheon to grab souvenir menus; the kid selling $57 worth of ice cream on a cold and rainy day …
The crowd applauding an hour before the Queen arrives when the sun breaks fleetingly through the clouds; the awesome gasps at the real-life aura of this lady who is Queen; the cries of "She's beautiful!" when she steps from her car in mint green coat and dress; the loss of words of young girls when the slimly handsome Duke stops to say hello …
The way that anyone who owned a uniform was wearing it from nurses to boy scouts to safety patrol youngsters; the safety patrol boy who took a picture of the Duke and the Duke telling him that it was too bad he couldn't get a picture of the Queen too; the woman who lost her voice when the Queen asked if she got wet while waiting …
The barefoot kids running between the guard of honour and being chased by police; the crowd yelling at photographers to duck out of the way and the photographers trying to squat and take pictures at the same time; the reporter guiltily picking up cigarette butts from the freshly swept steps of Centennial Hall before the Queen emerges …
The five militia bandsmen who were late arriving from Stratford running to their positions before the Queen arrives clutching their hats and instruments; the captain of the Royal Canadian Regiment Assault Pioneers saying that if they'd been regular soldiers, they'd be in jail by now; the Assault Pioneer Guards with their 16-pound axes on their shoulders and shell casings tucked craftily under their tunics to prevent the blades from cutting …
The writers and cameramen who were politely kicked out of the gallery of Centennial Hall while the Queen had lunch – Inspector Perkins of Scotland Yard, the Queen's chief protocol officer, informing them in clipped English tones that he didn't know why but he been told to clear the gallery and the gallery was going to be cleared …
The kids wearing garbage bags to keep off the rain; the harried parents at the rear of the crowd holding up disappointed offspring who didn't get to see the Queen; the cheers moving along the crowd lined against the barriers like a flame along a fuse …
The veteran BBC camera- and sound-men and the stories of their hilarious one-liners on the royal tour press bus; the dapper BBC commentator's apologetic regrets that British television and press seemed to be paying more attention to Watergate than to the Queen's tour of Canada …
The self-consciousness of the civic luncheon guests in their prim attire as they walked past the rain-bedraggled royalists who had to wait outside and the smugness on their faces as they clutched their invitations …
The seven gleaming Chevrolets that formed the motorcade, brand new cars with not a speck of dirt on the undersides but with the radios already installed for their work from now on as police cruisers; the faultless precision of the First Battalion Royal Canadian Regiment guard of honour; the little boy with a huge canvas bag and a pointed stick still plucking litter from the grass of Victoria Park moments before the Queen's stroll …
The sudden doubts when it was all over so fast about whether or not the Queen had really been there at all and the eerie thought that the whole trip could have been staged without the Queen and as with the Emperor's new clothes most of us wouldn't have known the difference …
The lady walking away from it all saying "Well, I saw Prince Philip's hand"; the business-as-usual attitude of the Holiday Inn with its huge sign proclaiming, "A hearty welcome, IBM of Canada"; the sign outside Metropolitan United Church across the street from the Queen's honour guard, which said the 11 a.m. sermon was "We still need pioneers" …
The bells of St. Paul's Cathedral peeling loudly as the Queen and the Duke drive away …
(Top photo shows the royal couple at Niagara-on-the-Lake on the same tour in 1973)