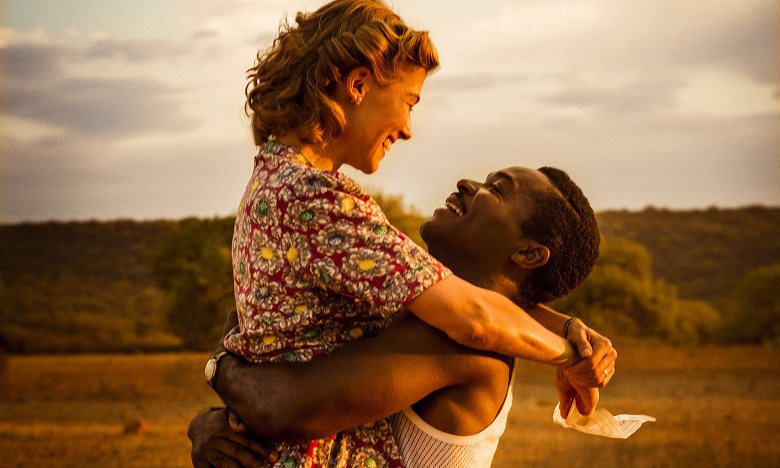 By Ray Bennett
TORONTO – Amma Asante's "A United Kingdom" tells with wit and relish the true story of the Forties romance between a black African Prince and a white English typist and the perils they face in both their countries, especially from the bigoted representatives of British imperialism.
The film will open the BFI London Film Festival on Oct. 5 ahead of general U.K. release on Nov. 25.
David Oyelowo plays Seretse Khama, a Prince of Bechuanaland (now Botswana) and heir to the throne, whose uncle Tshekedi (Vusi Kunene) is regent while the young man completes his education in the U.K. with a law degree.
Rosamund Pike is Ruth Williams, a tall and willowy but shy clerk from a middle-class family, who meets and falls in love with the prince after they meet at a local dance-hall, one of the few pleasures in the post-World War II London gloom.
They are both shy and their romance, as it flourishes, is decorous in a very British way, not least because Ruth fears that her middle-class father (Nicholas Lyndhurst) will be outraged and Seretse knows that his decision to marry a white Englishwoman will cause a scandal in his homeland.
They don't know the half of it and the film shows how they confront fear and ignorance and an enormous amount of prejudice with quiet confidence. Bechuanaland at the time was a British protectorate, which meant that white mandarins ruled on the promise of providing stability and security while a tribal council held sway over domestic affairs.
The British governors and the white community in the country are portrayed as equally obnoxious. Under the sure direction of Asante ("A Way of Life", "Belle"), Guy Hilbert's well-crafted screenplay makes clear the social and political pressures the couple face including the underlying politics as the British government strives to keep South Africa on board despite its move to apartheid. The supply of gold and the fear that South Africa will flee the Commonwealth and embrace Stalin's Soviet Union make U.K. leaders ready to sell principle down the river.
Oyelowo and Pike have an electric chemistry that they display as much in quiet moments as in scenes of passion while Jack Davenport and Tom Felton give full measure to the condescending superiority embraced by the civil servants they portray.
"A United Kingdom" is a handsome and rewarding picture given an extra polish by composer Patrick Doyle, whose orchestral score captures the spirit of the times both home and away.
Venue: Toronto International Film Festival; Released: UK: Nov. 25 (20th Century Fox)) US: TBA (Fox Searchlight); Cast: David Oyelowo, Rosamund Pike, Laura Carmichael, Jack Davenport, Tom Felton; Director: Amma Asante; Writer: Guy Hilbert; Director of photography: Sam McCurdy; Production designer: Simon Bowles; Music: Patrick Doyle; Editor: Jonathan Amos; Costumes: Jenny Beavanm Anushia Nieradzik; Producers: Brunson Green, Peter Heslop, Charlie Mason, Rick McCallum, Justin Moore-Levy, David Oyelowo; Production: Film United, Harbinger Pictures, Pathé, Perfect Weekend, Yoruba Saxon Productions; Not rated; running time 111 minutes.