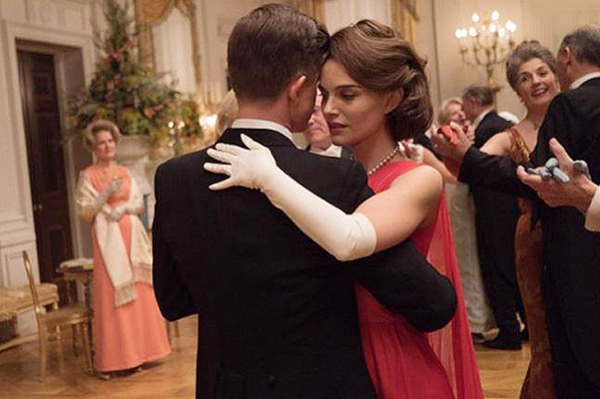 By Ray Bennett
TORONTO – Chilean director Pablo Larrain's "Jackie" purports to tell what Jacqueline Kennedy did in the immediate aftermath of the assassination of President John F. Kennedy. If the film is to be believed, the answer is: not much.
In his first English-language film, the director of the splendid political drama "No" (2012) focuses almost entirely on Natalie Portman (pictured) as the widowed First Lady and the actress does a terrific job of subduing her own beauty and personality to portray a stiff and private woman forced into the public glare.
Shot on 16mm, the film jumps back and forth in time as Jackie sits for an interview with a tame and malleable reporter (Billy Crudup) so that she can portray the Kennedy era in the terms she desires, which is to say print the legend, not the truth.
Only late in the picture do we see the assassination itself but we see the reaction to it, especially Jackie's, and the events that are familiar from coverage at the time. Behind closed doors, Jackie is understandably traumatized as the business of government takes its course.
Peter Sarsgaard as Bobby Kennedy and John Carroll Lynch as LBJ appear to chafe under miscasting and Caspar Phillipson makes a bland JFK although Richard E. Grant and Greta Gerwig are fine as White House staffers.
There are disagreements over the big move out of the White House, the location of the late president's grave and whether or not the funeral parade will mirror Abraham Lincoln's with senior figures on foot or in a motorcade of armored vehicles.
Concern for her children is paramount and the nannies are kept busy as Jackie smokes, swigs vodka and wine, swallows pills and tries on an assortment of her celebrated dresses while Richard Burton sings the title song of "Camelot" on the stereo.
Flashbacks show the move into 1600 Pennsylvania Avenue and Jackie's determination to redecorate in order to reflect previous occupants plus her taste for parties with various star performers. Black-and-white scenes are recreated from the famous television documentary in which she shows off the place for the first time. Composer Mica Levi fleshes out the drama with some mordant orchestral cues.
As it becomes clear that the interview with the reporter is an exercise in legend building, the desired Arthurian connection figures larger. There are several scenes in which the wonderful John Hurt is brought in as an old Irish priest to make some religious prattle bearable. Jackie asserts that she wishes she'd been just a shop girl who married an ordinary man although there's no mention of what the Bouvier family would have thought of that.
To close, the film works hard to reinforce the notion of the Kennedy era as a magical time, and here comes Richard Burton once again to voice the sentiment, "Don't let it be forgot that once there was a spot, for one brief shining moment, that was known as Camelot."
More than once in the film, Jackie frets over not only JFK's legacy but her own and Larrain includes one biting piece of irony as Jackie is driven past a department store filled with mannequins in her likeness with more being unloaded from a truck. Portman's reaction speaks volumes.
"Jackie" made its North American debut at the Toronto International Film Festival but no distribution details have been announced.
Venue: Toronto International Film Festival; Released: UK, US: TBA; Cast: Natalie Portman, Peter Sarsgaard, Greta Gerwig, John Hurt, Billy Crudup, Max Casella, Richard E. Grant; Director: Pablo Larrain; Writer: Noah Oppenheim; Director of photography: Stéphanie Fontaine; Production designer: Jean Rabasse; Music: Mica Levi; Editor: Sebastián Sepúlveda; Costumes: Jürgen Doering; Producers: Darren Aronofsky, Pascal Caucheteux, Scott Franklin, Art Handel, Juan de Dios Larrain, Mickey Liddell; Production: Jackie Productions, Why Not Productions; Not rated; running time 95 minutes.