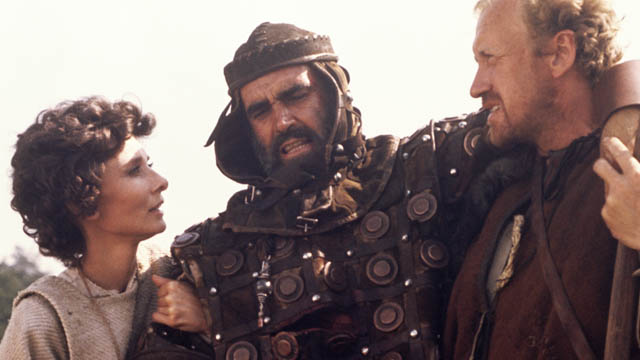 By Ray Bennett
One afternoon in 2004 or so, I was in one of my local London pubs, The Cock and Bottle in Notting Hill. The saloon bar was empty except for me and the actor Nicol Williamson.
We sat with our pints at separate tables and I could not resist breaking the silence. 'May I say hello?' I said. 'Hello,' he said in his deep and distinctive midlands voice with echoes of his Scottish birth.
I said, 'I saw you in 'Rex' Broadway in 1976.'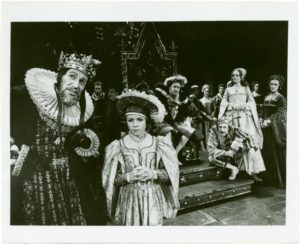 He had played Henry VIII (left) in the musical by Richard Rodgers at the Lunt-Fontaine Theater. It opened in April and closed in June.
Williamson sighed and gave a wan smile. 'Ah, yes,' he said. 'Not the maestro's best.'
The actor did not appear to be well and he clearly wished to be alone, but I said, 'I enjoyed it.'
He raised his glass to me and I said, 'How are you?'
Williamson thought for a moment and looked me in the eye. He said, 'Breaking even.'
He died on Dec. 16, 2011, aged 75, after a two-year battle with esophageal cancer.
Many actors have been known as hell-raisers, some of them great ones, but few compared to Nicol Williamson. He blazed onto the stage in the Sixties in the West End and on Broadway and he made a few good films and lots of TV but his prickly temperament and capacity for alcohol got the best of him and his immense talent never took him to the heights he deserved.
He was a sensation in the title role of 'Hamlet' and he was nominated for Tony Awards for 'Inadmissible Evidence' and 'Uncle Vanya' and Bafta Film Awards for  'The Bofors Gun' and the film of 'Inadmissible Evidence'.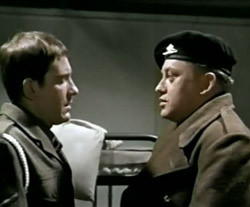 In the 'The Bofors Gun' (1968) he plays a ferocious Irish gunner who makes life misery for a young national serviceman played by David Warner (left). Directed by Jack Gold, it's a gripping drama that co-stars Ian Holm and John Thaw.
Williamson is memorable as Sherlock Holmes in Herbert Ross's 'The Seven-Per-Cent Solution' (1976), with Robert Duvall as Watson, Alan Arkin as Sigmund Freud, Vanessa Redgrave as Lola Devereaux and Laurence Olivier as Professor Moriarty, and as Merlin in John Boorman's Arthurian tale 'Excalibur' (1981).
My favourite performance of his is as Little John (top with Sean Connery and Audrey Hepburn) in Richard Lester's magnificently romantic and elegiac 'Robin and Marian' (1976). Connery plays the aging outlaw just back from the crusades and always up for a fight with the authorities, especially the Sheriff of Nottingham played by Robert Shaw.
There's a moment that defines the friendship between Robin and John and a bond that can never be broken. Hepburn as Maid Marian is scared that the Sheriff of Nottingham will kill Robin and pleads with Little John to intervene. He says he can't do that. Marian says she never understood why Robin went away to fight and implies subtly that she would look fondly upon John if he were to help.
Little John eyes her tenderly and with great fondness growls, 'You're Rob's lady. If you'd been mine, I would never have left.'