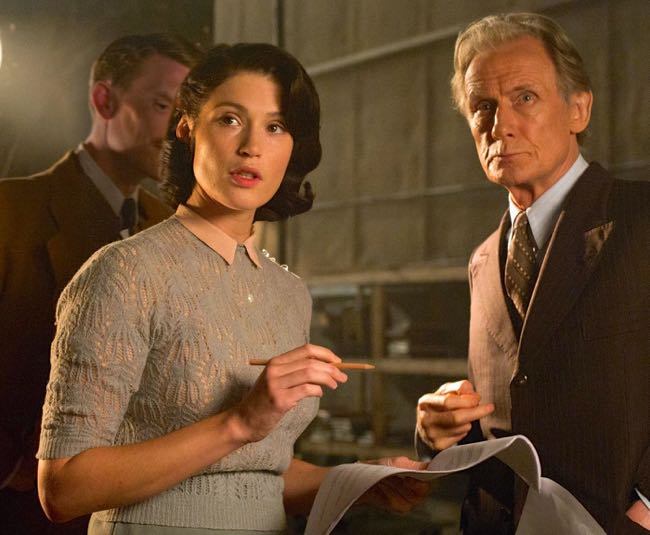 By Ray Bennett
TORONTO – Lone Scherfig's "Their Finest" is a crowd-pleasing British World War II comedy that tells of a hapless group of filmmakers at work on a morale-boosting movie with outstanding performances by Gemma Arterton and Bill Nighy (pictured).
The film will screen at the BFI London Film Festival on Oct. 13 with UK release by Lionsgate set for Feb. 19.
The Danish director ("Just Like Home", "An Education") delivers a warm and funny picture reminiscent of Ealing Studios at its best with a winning screenplay by Gaby Chiappe, whose many television credits include "Lark Rise to Candleford", "Vera" and "Shetland"; a fine ensemble cast and an evocative score by Oscar-winner Rachel Portman. The story is based on a novel titled "Their Finest Hour and a Half" by Lissa Evans.
Arterton is captivating as a young woman named Catrin who, in the grim days of the Blitz in 1940, applies for a job as a copy-writer only to land a position writing dialogue for a feature film about the Dunkirk evacuation that the Secretary of War (Jeremy Irons in a very funny cameo) sees as vital to the war effort to boost morale and encourage the Americans to join the fight.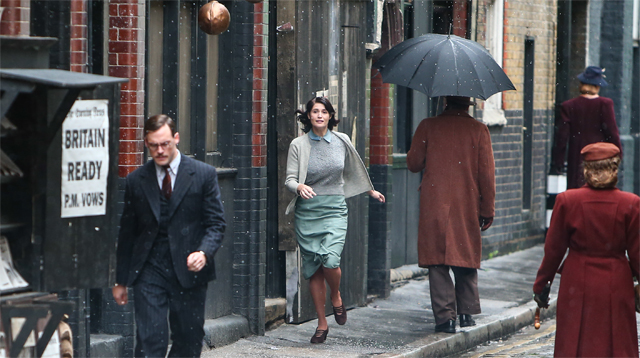 Catrin, who has to deal with misogyny at home from struggling artist husband Ellis (Jack Huston), faces even more on the production crew, especially from hotshot lead writer Tom (Sam Claflin, pictured above with Arterton). He assigns her what he calls "the slop", which is to say the dialogue of the females in a war picture in which the men clearly are the focus of attention.
Bill Nighy is in top form as fading leading man Ambrose Hilliard, who takes the role of a drunken uncle despite his vanity, and there are splendid contributions from Claflin and Huston, and Claudia Jessie and Stephanie Hyam, who play the twins whose heroic actions in the Dunkirk crisis spark the idea of the film.
There are polished moments, too, from Rachael Stirling, as a ministry watchdog, Paul Ritter as a veteran writer, Richard E. Grant as the head of the War Office film division, Henry Goodman as an Eastern European producer, Eddie Marsan as an agent, and Helen McCrory as the agent's sister.
With great assurance, Scherfig follows the challenges and pitfalls of filmmaking on a string budget at a time when bombs take out not only buildings but also members of the crew. As the film-within-the-film takes shape, the studio and location work makes an instructive and entertaining comparison to the finished article.
Catrin finds herself in a love triangle with wandering husband Ellis and acid-tongued screenwriter Tom while Ambrose turns out to be great help in keeping the project afloat. The ministry insists on an American hero for the film and provides one in the form of noted American fighter pilot Carl Lundbeck (Jake Lacy) who, of course, cannot act.
There are mishaps on location, in the studio and at home as Catrin struggles both with the script, in which she seeks to elevate the role of the female characters, and her love life, which gets out of hand. Arterton captures the woman's allure, intelligence and anxiety in a fully rounded performance while Nighy's canny facial expressions, body language and droll delivery of the best lines help to make the film so pleasing.
Rachel Portman's orchestral score with piano solos enhances the comedy and the heroism and adds poignancy to the inevitable abrupt losses that war brings. The film never loses sight of the reality of what's going on around the band of filmmakers and that adds resonance to both the romance and the humour.
Venue: Toronto International Film Festival; Released: Feb. 19 2017 (Lionsgate) US: TBA (EuropaCorp); Cast: Gemma Arterton, Sam Claflin, Bill Nighy, Jack Huston, Paul Ritter, Rachael Sterling, Richard E. Grant, Henry Goodman, Jake Lacy, Jeremy Irons, Eddie Marsan, Helen McCrory; Director: Lone Scherfig: Writer: Gaby Chiappe, based on the novel "Their Finest Hour and a Half" by Lissa Evans; Director of photography: Sebastian Blenkov; Production designer: Alice Normington; Music: Rachel Portman; Editor: Lucia Zucchetti;; Producers: Amanda Posey, Stephen Woolley; Production: BBC Films, Film Vast, Number 9 Films, Wildgaze Films; Not rated; running time 105 minutes.