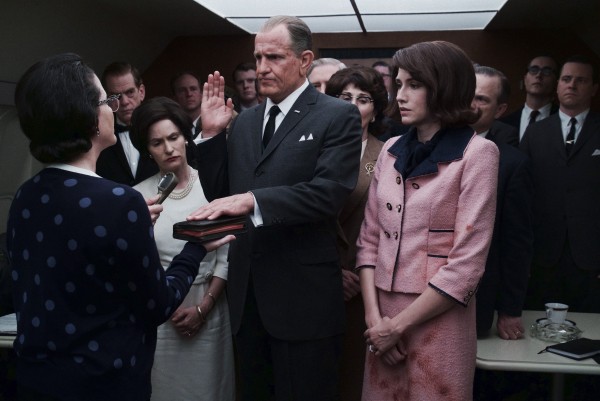 By Ray Bennett
TORONTO – Rob Reiner's "LBJ" is an absorbing drama about President Lyndon Baines Johnson's first days in office that is made memorable by a skillful and insightful performance by Woody Harrelson.
The film had its World Premiere at the Toronto International Film Festival today but distribution details have yet to be announced.
"LBJ" follows Johnson from when he takes the oath of office following the assassination of President John F. Kennedy to the day he tells Congress that he will pursue the fallen leader's goals on civil rights.
There are flashbacks to the Democratic Party nomination race between LBJ and JFK and Reiner strings out the fateful parade through Dallas over several scenes before gunfire changes everything.
Reiner also employs television footage from the time and recreates some scenes in black-and-white to complement the fine colour work of cinematographer Barry Markowitz.
Screenwriter Joey Hartstone includes some familiar LBJ vulgarisms such as his penchant for doing his business on the toilet seat while doing the government's business with his staff and his declaration that he would rather have an opponent "on the inside pissing out rather than outside pissing in".
Jennifer Jason Leigh is not given much to do (although she does it well) as Lady Bird Johnson other than console and encourage her husband when he frets that people do not love him as they do JFK (Jeffrey Donovan) and Robert Kennedy (Michael Stahl-David). Kim Allen, as Jacqueline Kennedy, has no lines at all.
LBJ's skills as Senate Majority Leader are clear as he begs, bullies, and wheedles his way to win key votes. The film suggests that he envied JFK and came to embrace the sophisticated northerner's quest for equal rights even though previously he had voted against such bills along with most of his southern peers.
Key conflicts in the movie are between Johnson and Attorney General Bobby Kennedy, who despised the Texan as crude and ignorant, and between Johnson and powerful Georgia Senator Dick Russell, who believed that to have a southerner in the White House would allow segregation to flourish.
Stahl-David, as Bobby, and Richard Jenkins, as Russell, get under the skin of their characters as much as Harrelson and their scenes together are tense and vivid. Brent Bailey conveys the tension and doubt of Kennedy's staff in a brief scene as speechwriter Ted Sorenson.
Harrelson, whose facial resemblance to Johnson is not close even with substantial prosthetics, succeeds … as Anthony Hopkins did in Oliver Stone's "Nixon" … in capturing the essence of the man in his posture, his eyes and his voice.
Christopher R. DeMuri's production design is handsome and composer Marc Shaiman provides an orchestral score that blends in cleverly whether the scene is tense, dramatic or comic, with subtle hints of the period.
Venue: Toronto International Film Festival; Released: UK / US: TBA; Cast: Woody Harrelson, Jennifer Jason Leigh, Michael Stahl-David, Richard Jenkins, C. Thomas Howell, Bill Pullman, Jeffrey Donovan, Joe Chrest, Kim Allen, Brent Bailey; Director: Rob Reiner; Writer: Joey Hartstone; Director of photography: Barry Markowitz; Production designer: Christopher R. DeMuri; Music: Marc Shaiman; Editor: Bob Joyce; Costumes: Dan Moore; Producers: Matthew George, Liz Glotzer, Rob Reiner, Tim White, Trevor White, Michael R. Williams; Production: Acacia Filmed Entertainment, Castle Rock Entertainment, Savvy Media Holdings, Star Thrower Entertainment; Not rated; running time 98 minutes.