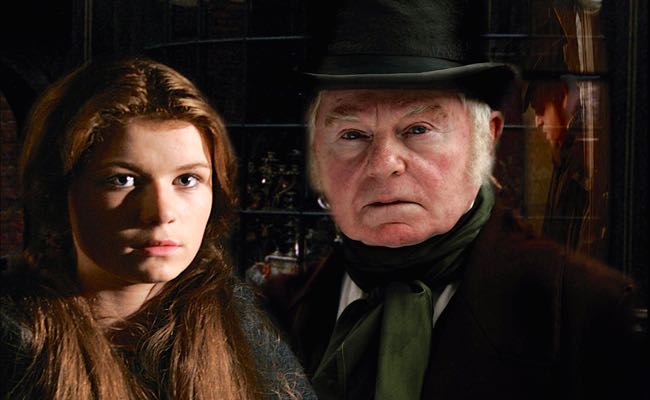 By Ray Bennett
LONDON — Far from chestnuts roasting and choristers singing, Charles Dickens' "The Old Curiosity Shop" is a curiously bleak tale for Christmas. Famous for the death scene of a most sympathetic character, it's a sorrowful story of greed, poverty and grief, and ITV's version makes the most of it.
Co-produced by WGBH Boston, the film has a starry cast topped by Derek Jacobi (pictured with Sophie Vavasseur) as the grandfather whose compulsive gambling leads to the loss of the quaint little shop mentioned in the title.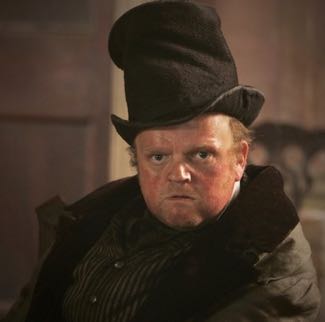 Toby Jones ("Infamous") plays the unscrupulous moneylender Mr. Quilp (right) who drives the old man into the streets with his devoted granddaughter, Nell (Sophie Vavasseur).
They flee to the countryside, encountering assorted colorful characters like Mrs. Jarley (Zoe Wanamaker), who runs a wax works, and a couple of Punch & Judy showmen (Martin Freeman and Steve Pemberton).
Quilp sets off after them aided by a pair of married lawyers named Brass (Gina McKee and Adam Godley), while an impoverished young lad named Kit (George McKay) helps a mysterious stranger (Adrian Rawlins) who also is seeking the old man and Little Nell.
Writer Martyn Hesford keeps the story tidy, while director Brian Percival moves things along while helping his cast to resist the temptation to be overly Dickensian.
The film was made in Ireland with the help of the Irish Film Board, but it has the look of a low-budget production with many scenes shot in the dark and lots of close-ups. The exceptions are when grandfather and Nell have moments of freedom out in the country when the screen is suddenly filled with greenery.
Jacobi finds some vinegar in what could easily be a sweet old man, and Jones gives some shading to Quilp's villainy. Stephen McKeon's versatile score helps considerably.
It's a dour, depressing tale, however, and attempts at a jolly ending serve only as a reminder that Dickens wrote it as a serial. It looks very much as if he were making it up as he went along.
Screens: ITV1 9-11pm Dec. 26; Cast: Derek Jacobi; Toby Jones; Sophie Vavasseur; Gina McKee; Adam Godley; Anna Madeley; Adrian Rawlins; Geoff Breton; Bryan Dick; Zoe Wanamaker; Martin Freeman; Steve Pemberton; George McKay; Teleplay: Martyn Hesford; Director: Brian Percival; Director of photography: Peter Greenhaigh; Production designer: Michael Pickwoad; Music: Stephen McKeon; Costume designer: Lorna Marie Mugan; Editor: Tony Cranstoun; Executive producer: Gareth Neame; Producer: Andrew Benson A Carnival, WGBH Boston, Ingeneous Broadcasting co-production with the participation of the Irish Film Board.
This review appeared in The Hollywood Reporter.